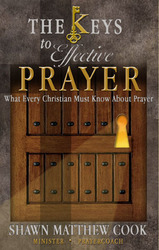 "Its time for people to take the church seriously and that will not happen until we start getting some results."
Port Tobacco, MD (PRWEB) July 25, 2010
Believe and Speak Productions today announced the upcoming "Keys to Effective Prayer" prayer breakfast. Workshop. This ½ day workshop is designed to give the Christian/Believer the ability to become highly effective in their prayer life and produce tangible results. "I am really on a mission to help people pray more effectively" said Shawn Matthew Cook, Minister, Author, Speaker and PrayerCoach, "Most people today have no fear or reverence for God or His people because we aren't getting any results" said The PrayerCoach.
Shawn Cook took on the title of PrayerCoach after starting a daily prayer call in early 2009. "The Prayer call was originally for people who had lost their jobs as a result of the recession" said Minister Cook... "We started the Off the Hook Prayer call with just 5 or 6 men who had lost their jobs in the recession; however within a short period of time, they all got jobs and the call just grew from there." Today there are as many as 50 people on the call and the PrayerCoach is praying for more than just jobs but healing, deliverance and prosperity. "The testimonies that are coming back are so inspiring…" said the PrayerCoach and this is what really caused me to realize how important it is that people learn to pray effectively."
Armed with the knowledge on the "Keys to Effective Prayer" Shawn Cook the PrayerCoach decided to hold breakfast workshops where he could teach the principles that are being used on the daily prayer call. "You've heard the old adage about teaching a man to fish, that's what being a Disciple Maker is all about…"said the PrayerCoach. "Its time for people to take the church seriously and that will not happen until we start getting some results." The first Prayer Breakfast is set for Saturday August 21, 2010 at the Hampton Inn –Waldorf. The registration cost for the breakfast is $25 which covers the breakfast, the workshop materials and a copy of the live message on compact disc.
"There are only 50 seats for this conference…" said the Shawn Cook the PrayerCoach. "I wanted an intimate session for this first one but I do want to expand to thousands as the word gets out." "This is message is something that EVERY Christian Must know about Prayer." The meeting will include special musical guest Zavonya Covington who will set the atmosphere with anointed praise and worship. Secure registration for this event can be obtained at the Believeandspeak.com website.
Believe & Speak Productions, LLC is a multi-faceted production company focused on providing tools, resources and services to the Christian community that help to elevate their Christian Walk by Faith. Founded by Shawn Matthew Cook (formerly of Say It & See It Productions, LLC) – Minister, Author, Speaker & Prayer Coach in 2008, The Vision of Believe and Speak includes the delivery of Faith filled Seminars and public meetings, Books, Prayer & Faith Confession CD's and other resources that empower the Christian believer to take their rightful place as sons and daughters of God. Believe & Speak Productions also provides a variety of production services such as the writing and producing of Voiceovers, ministry commercial and announcements and books on CD for authors interested in such services. For more information on Believe & Speak Production Services, Speaking Engagements or Bulk CD Purchases email us at Prayercoach (at) comcast (dot) net or visit http://www.believeandspeak.com.
###