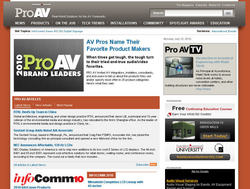 We continue to make PRO AV Online and its companion PRO AV Connect into destinations where the AV community can spend time, share ideas, give us feedback, and learn about trends and technologies that help them do their job better
Washington, DC (PRWEB) July 13, 2010
Hanley Wood, LLC, the leading media company serving the residential and commercial construction industries announces the relaunch of PRO AV's website, proavmagazine.com. PRO AV is the leading media brand serving the entire spectrum of decision-makers in the commercial audiovisual field.
The relaunched website features a sleek redesign, state-of-the-art technology, and has improved navigation, functionality and interactivity to better serve its audience of AV professionals. The new site is able to offer more content, more frequent updates, and more advertising opportunities. Articles are organized by topic, and now with more web-first content, readers will check back frequently and stay up-to-date on the subjects important to their business.
"PRO AV's ongoing investment in cutting-edge technology, design, and award-winning content makes proavmagazine.com the only site anyone who cares about the AV business needs to visit," says Jon Yoffie, associate publisher of PRO AV. "The addition of online training and education through Hanley Wood University, and user generated content and community interaction through PRO AV Connect makes our new site the destination for AV pros to interact with industry associations, manufacturers, and each other."
Among many of the highlights of the site is a revamped Continuing Education Center, which connects AV pros with the new Hanley Wood University education platform. AV pros can go directly to the featured courses that serve their training needs best. New multimedia features include large-format slideshows and enhanced video player technology with PRO AV TV where visitors can find a range of editorial videos.
A new Spotlight Awards section adds to the website with archives of articles and slideshows from the award programs three-year history. Another feature to the website is the new Community section, where readers can find blogs and columns from PRO AV editors and contributors, join forums for discussion, and sign up for an account with PRO AV Connect, the online community for AV professionals. With PRO AV Connect, industry professionals can talk shop, share videos and photos, meet other AV professionals, catch up on the news, read blogs — or start their own.
"We continue to make PRO AV Online and its companion PRO AV Connect into destinations where the AV community can spend time, share ideas, give us feedback, and learn about trends and technologies that help them do their job better," says Brad Grimes, editor of PRO AV. "The new platform affords us great flexibility to grow and mold the site to respond to users' needs and wants."
This relaunch showcases the latest of Hanley Wood's websites built in the company's new content management system (CMS). The CMS uses the Tridion platform and gives editors limitless flexibility to add and update online content quickly. It also allows for new advertising opportunities. The new infrastructure allows proavmagazine.com to be more efficient in bringing ideas to market going forward and should serve as a catalyst for aggressive audience growth.
View the redesigned website at proavmagazine.com and to learn more about PRO AV and its wealth of advertising opportunities, visit proavmediakit.com.
About Hanley Wood
Hanley Wood, LLC, is the premier media and information company serving housing and construction. Through media event and marketing platforms, the company produces award-winning magazines and websites, marquee trade shows and events, rich data and custom marketing solutions. The company also is North America's leading publisher of home plans. Hanley Wood Business Media (Washington, D.C.), publishes more than 30 award-winning residential and commercial construction titles, including metalmag, ecohome, BUILDER, REMODELING, CUSTOM HOME, ARCHITECT and residential architect. Hanley Wood Business Media also offers the construction industry's foremost collection of websites, including BUILDER ONLINE, REMODELING ONLINE, and ebuild, the comprehensive online guide to building products, as well as the largest collection of house plans online through eplans.com and Dream Home Source.
Founded in 1976, Hanley Wood is one of the ten largest B-to-B media companies in the United States. Hanley Wood is owned by affiliates of JPMorgan Partners, which uses CCMP Capital Advisors to manage this investment.
# # #