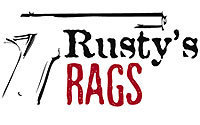 RUSTY'S RAGS HAS RECEIVED A "BEST" RATING FROM GUN WRITERS AND SHOOTING PROFESSIONALS ALIKE. IT JUST WORKS!
Douglasville, GA (PRWEB) July 14, 2010
An old man sits outside his small house wiping down a friend's Winchester M70 rifle he used to kill an 8 pointer yesterday evening. The gun cleaning cloth he is using was not bought in a store or ordered through a catalog. It is unique because it is the only gun cleaning cloth the old man has ever used that got in the many 'nooks & crannies' of his guns.
With over 78 years of shooting and collecting guns, Rusty can tell you one or two hunting stories that will have you hanging on the edge of your seat. His newest invention, the Rusty's Rag™, has everyone in the small town of Douglasville, just outside of Atlanta, talking. With one last quick wipe of the sheepskin gun cloth Rusty puts down the gun and begins talking.
"I always dreaded coming in from the field and having to clean my guns," says Rusty. "The mere thought of it made me not want to go shooting in the first place. Finally I found a solution to my problem." After many years of using the 'old fashioned' flannel silicone gun cloth which Rusty says would tear up after a couple of uses, Rusty spent over three years developing and testing a new gun cleaning product that took the stress and headache out of cleaning his guns. "I always knew there had to be a better and easier way to both clean and protect my guns at the same time and I finally found it," says Rusty.
The Rusty's Rag™ is basically two cleaning cloths in one. The hand cut sheepskin cloth is impregnated with silicone gun oil formulated by Rusty. "It took me forever to find a way to keep the oil on the sheepskin that I almost gave up," laughs Rusty. "I finally found a way to do it and the rest is history." Every Rusty's Rag™ also contains a free flannel cloth used for polishing the firearm to a fine finish. Instructions are also included.
Many of Rusty's friends and fellow gun enthusiasts encouraged Rusty to share his invention with the rest of the community for their gun cleaning and protecting needs and thus Rusty's Rags™ were born. Now Rusty has his own website http://www.RustysRags.com that tells about his new gun cleaning cloth and people can buy the cloth straight from his site. Rusty use to cut each sheepskin cloth by hand but now has had to enlist help from his family and friends to keep up with production. "Never in my wildest dreams did I think these cloths would sell so well," Rusty laughs.
Rusty's Rags™ are sold through http://www.RustysRags.com and fine gun stores throughout the United States. Rusty is always looking for new vendors to carry his product.
###