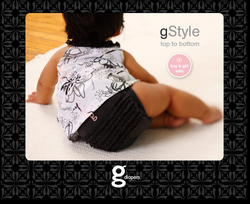 Portland, OR (PRWEB) July 13, 2010
gDiapers, makers of the hybrid diaper system of biodegradable and cloth diapers, has expanded their line to include limited edition gStyle. Fashion-savvy from a wee age, babies can now strut their stuff with gStyle.
product descriptions
The gDarling dress set includes an whimsical gray, pink, and white floral cotton dress and coordinating ruffle little gPant. Perfect for a sunny playdate or teatime with teddybears. Use with biodegradable or cloth diapers. $39.99
The gCycle tee set includes a hip grey t-shirt with tricycle print and coordinating little gPant. gStyle is only sold as a set. Get ready to ride. Available in limited quantities. Use with biodegradable or cloth diapers. $34.99
About gDiapers
The first new choice in diapers in more than 40 years, gDiapers is the best of cloth diapers and disposables in one earth-friendly hybrid diaper. gDiapers provides parents with a diapering solution that is good for babies, parents and the planet. Parents have the flexibility of a disposable diaper with a 100% biodegradable gRefill or they can opt for reusability of super soft and trim-fitting gCloth cloth diapers. gDiapers hybrid cloth diapers are available in wide range of colors and prints.
For more information visit gdiapers.com.
###