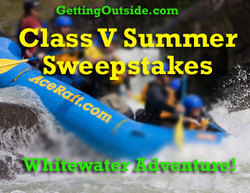 "Rafting the Gauley is a wonderful combination of power and grace, excitement and serenity," said Beth Gill, Marketing Director, ACE Adventure Resort. "The whitewater provides thunderous adventure, while the scenery and wildlife refresh the soul."
Willow Grove, PA (PRWEB) July 13, 2010
Even as temperatures rise across much of the country, whitewater rafting enthusiasts are looking ahead to thrilling autumn rafting trips on the world renowned Gauley River. While the river can be run at other times of the year, "Gauley Season" is a particularly exciting, 22-day schedule of water releases in September and October.
Famous for steep drops, tight moves, and thrilling Class V rapids, the Gauley River attracts more than 35,000 paddlers a year. There are two sections on the Gauley River – upper and lower. While the Lower Gauley might best be described as a scenic thrill ride that is suited for first time rafters, the Upper Gauley has been called North America's most intense and exciting river experience.
GettingOutside.com Class V Summer Sweepstakes is Free!*
Everyone who registers as a new member on GettingOutside.com between July 8, 2010 and September, 8 2010 will be eligible to win a free outdoor adventure at West Virginia's wilderness playground, courtesy of ACE Adventure Resort.* GettingOutside.com Membership is free, and registration is open today! http://www.gettingoutside.com/class-v-summer-sweepstakes
The Grand Prize includes one day rafting on the Lower Gauley, to get the winner acclimated to the water, and then a second day rafting on the Upper Gauley. Both trips are sure to deliver glorious thrills and lifelong memories.
"Rafting the Gauley is a wonderful combination of power and grace, excitement and serenity. The whitewater provides thunderous adventure, while the scenery and wildlife refresh the soul," said Beth Gill, Marketing Director, ACE Adventure Resort. "We're proud to share some of the best high volume and technical whitewater rafting in the world with the outdoor enthusiasts on GettingOutside.com."
With Gauley Season coming up soon, the two organizations felt the timing was perfect to make this exclusive offer to new GettingOutside.com members. The community-powered outdoor site is centered around recreational activities and destinations shared and enjoyed by its many members. New members who join for the sweepstakes can find new friends while GettingOutside.
"Having a chance to experience the legendary whitewater rafting of West Virginia is a fantastic way to get introduced to the GettingOutside community of outdoor enthusiasts," said Don Neske, Managing Partner, GettingOutside.com. "GettingOutside.com is all about exploring the great outdoors, and we can't think of a better way to do that than with a fantastic outfitter like ACE!"
"We don't stop at just whitewater rafting. At ACE, you can enjoy rock climbing, mountain biking, zip lines and rope courses, ATVs, obstacle courses, horseback riding, kayak clinics and more," said Gill. "We invite you to enjoy our awesome on-site adventure lake and beach. And you can finish up your fun filled day with a delicious meal. We've got all the fun you can handle."
One Lucky Winner Each Week!
Along with the featured grand prize, whitewater getaway adventure, you can win one of several prizes that will be given out each week to new members who join during the sweepstakes period. These prizes include Coghlan's Wireless Weather Stations and GettingOutside.com hats and shirts. And since all participants get a free membership on GettingOutside.com, everyone is a winner.

Terms and conditions apply. The winner will be chosen at random, see GettingOutside.com for sweepstakes details.
About GettingOutside.com
GettingOutside.com aspires to be the most friendly, community-powered outdoor site. Whatever your experience level - at GettingOutside we invite you to become a member and share your favorite outdoor activities and outdoor destinations with our growing community of enthusiasts. You'll discover budget travel, family vacations, adventure, recreation, camping, hiking, fishing, cycling, running, swimming, and a green environment. Membership is free so join today! http://share.gettingoutside.com/
About ACE Adventure Resort
Located in the New River Gorge, ACE Adventure Resort is the largest outdoor adventure resort in North America. This 1,500-acre forest, river and mountain playground attracts more than 40,000 activity participants a year with whitewater rafting, zip-line canopy tours, mountain biking, rock climbing, ATVs — and its own 5-acre lake. The Adventure Play Park, as the lake area is called, includes zip-lines that land in the water, as well as volleyball, ping pong, life-sized chess board, paddleboats and a 300-yard sandy beach. ACE Adventure Resort was featured on the Travel Channel's "Extreme Resorts" show. http://www.aceraft.com/
###