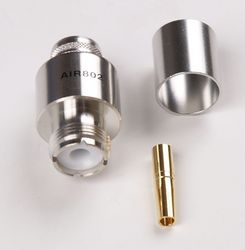 Naperville, IL (PRWEB) July 19, 2010
AIR802 has developed two new UHF coaxial connectors. Until now, the market has been limited to one UHF male or PL-259 crimp style connector for 600-series cable, such as Times Microwave's LMR-600 or AIR802's CA600. With AIR802's new product, there is now competition for UHF male or PL-259 connectors used with 600-series cable. Until now, a UHF female or SO-239 connector for 600-Series cable did not exist in the global market. AIR802 has developed the first known UHF female for 600-series cable providing a new choice for antenna cables.
AIR802 engineering designed the new UHF male or PL-259 and UHF female or SO-239 coaxial connectors for 600-Series cable with tri-metal albaloy (copper/tin/zinc) plated brass. This provides both corrosion resistance and low intermodulation distortion (IMD) characteristics. The connectors are crimp style. The center pin can be soldered today and AIR802 will introduce a new crimp tool capable of crimping the ferrule and center pin in October, 2010. The UHF male connector part number is CN6UHFP and the UHF female connector part number is CN6UHFJ (click on the links to learn more).
About AIR802
AIR802 LLC manufactures wired and wireless networking equipment, including UHF connectors, for government, military, corporate and individual customers worldwide. Established in 2005, AIR802 is founded on strong ethics, high quality products and global service.
Contact
Michael Bryant
AIR802
Phone: 1+ 630.428.3108
mbryant(at)air802(dot)com
# # #