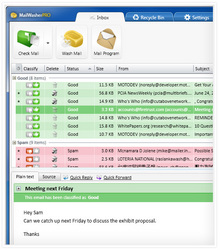 The new MailWasher Pro 2010 version is built from the ground up and is faster, more flexible and makes it easier to add features since we're using Microsoft's WPF technology
Christchurch, New Zealand (PRWEB) July 14, 2010
Firetrust Limited, developer of award-winning anti-spam product MailWasher Pro, announced the release of MailWasher Pro 2010, a complete re-write of their popular anti-spam software.
The decision was made to rewrite MailWasher Pro from scratch late in 2008 for several reasons. One of the main issues being that after nine years of developing the same version, it became very difficult to make improvements which users were asking for. The other main reason was to move away from the grey boxes and screens type of software and move to a more colorful, usable and integrated experience for users.
"After 9 years the existing code was holding us back in being able to deliver updates and improvements our users were looking for. Also it was becoming clear that the look of MailWasher was becoming outdated and needed to be enhanced." said Nick Bolton, CEO of Firetrust Limited. "The new MailWasher Pro 2010 version is built from the ground up and is faster, more flexible and makes it easier to add features since we're using Microsoft's WPF technology".
Early reports indicate the new version is being very well received by new and existing users, many commenting on the new look, ease of use and enhanced feature set.
MailWasher Pro 2010 continues to provide the easiest-to-use and most effective spam filter available. Unlike other anti-spam solutions, which are integrated into the e-mail client, MailWasher Pro 2010 works outside the e-mail client, so users benefit from its powerful protection without downloading unwanted messages, spam or viruses. Users can preview and delete email before it gets to their computer.
By reviewing and deleting content at the e-mail server, users are protected from objectionable content including graphics, web bugs are rendered inactive, bandwidth is protected, and viruses and malicious scripts are stopped from spreading.
Presently, MailWasher Pro 2010 is available for stand-alone PCs and laptops. An enterprise version of MailWasher, called MailWasher Enterprise Server is available for use on servers and works with Windows and Linux with any mail server.
System Requirements and Availability
MailWasher Pro 2010 is available as a download from Firetrust's website at http://www.firetrust.com. MailWasher Pro 2010 is priced at $29.95 for a single user-license with discounts available for volume licensing. A free 30-day trial version can also be downloaded from the site. MailWasher Pro minimum system requirements include Microsoft Windows XP, Vista and Windows 7 operating systems. It is compatible with all POP3 e-mail programs, including, Microsoft Outlook, Outlook Express, Windows Live Mail, Windows Mail, Thunderbird, Gmail, AOL, IMAP, MSN and Hotmail e-mail accounts.
About Firetrust Limited
Established in 2000, Firetrust provides world-class e-mail security products for business and home users. Firetrust delivers solutions across the spectrum of inbox protection, including MailWasher Pro for unsolicited commercial e-mail (spam). The company is privately held and headquartered in Christchurch, New Zealand. For more information, please visit http://www.firetrust.com
MailWasher is a registered trademark of Firetrust Limited.
###