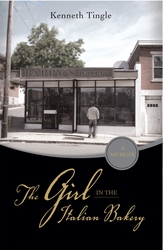 "A must read." "Inspiring, uplifting." "Should be mandatory reading." "Book of hope." Just some of the five star reviews at Amazon.
Windham, NH (PRWEB) July 14, 2010
The Girl in the Italian Bakery is a sleeper that is slowly spreading across the country. The book has a five star rating at both Amazon.com and BarnesandNoble.com. It is a powerful memoir that tells the story of Kenneth Tingle's life. Beginning when the author is five years old in a tough housing project, it moves on to tell the story of his family being torn apart at a young age, bouncing around to different slums, and his introduction to petty crime. The book marches on and does not miss a beat, following him from foster homes to his eventually return home ( after running away at age twelve and walking twenty miles to his mother's house). The hardship does not end there.
Even though Tingle goes to school and works, he continues to make some bad decisions through his high school years; drinking, drugs and reckless behavior. It all comes to a climax on prom night, when Tingle goes on a drug induced rampage in the hotel after the prom. He barely escapes jail and joins the Marines, putting his life together from that point on. The book gets its title, The Girl in the Italian Bakery, because as a teenager Tingle walks by a bakery and falls in love with a beautiful girl who works there. Although he walks by often, he never has the courage to go in and talk to her. The last chapter is Tingle looking back after twenty two years and putting it all in perspective; he even searches for the girl, wanting to know her name after all those years. The book is a quick and pleasurable read. Five stars.
###