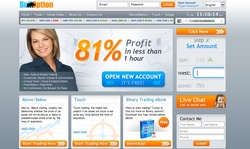 Tradologic - Become the leader binary options trading platform
(PRWEB) July 14, 2010
Tradologic has a lot of experience in the binary options industry, which is proven by their technology, operations and marketing knowledge.
Tradologic was established in 2008 by professionals in the finance and the online industries.
The founders include senior technology persons from SuperDerivatives, a Company that experts in pricing financial options. The founders also include experts from the finance industry, risk management professionals and former "888" leaders.
In addition to the leading technology that include Trading platform, full back office, and profitable website, Tradologic offers their customers/partners additional products, tools and services to increase the revenues.
These include: Effective risk management, strong servers hosting, real and reliable financial feeds/quotes, Sales, Retention, marketing tools and unique features. Recently, Tradologic became partners with 2 marketing entities that expert in online marketing of financial products and binary options.
The accumulate knowledge in Tradologic make her and her partners the leaders of the binary options industry.
Click here to see the new BullOption platform.
###