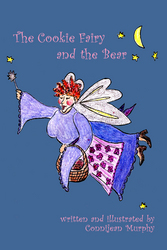 Westminster, MA (Vocus) July 14, 2010
The Cookie Fairy and the Bear by Connijeen Murphy has been released by Dorrance Publishing Co., Inc
Deep in the forest there was a peculiar but magical little castle.
The castle was made of cookies, with frosting and sprinkles, which made it sparkle.
And so begins the story of The Cookie Fairy and the Bear, the delightful, magical story of how one fairy teaches a contrary bear a lesson in sharing and love.
The Cookie Fairy is older and has lost many of her powers, but she is still able to bake magical cookies as a reward for boys and girls who have been extra good. While the children are asleep, the fairy slips the delightful baked treats under their pillows, to be discovered and enjoyed upon awakening.
One day a surly bear comes along and, his stomach rumbling, finds and eats the magical cookies! How horrible of the bear to eat someone else's cookies without asking permission. And how naughty that the bear ate cookies that had been made especially for good boys and girls! The Cookie Fairy explains to the bear what he has done, and the bear feels something he has not felt before: sadness because he has done something wrong.
Is the Cookie Fairy able to make more cookies in time to reward the children that evening? Does the bear remain stubborn and selfish, or does he learn his lesson and become a kinder, more thoughtful bear? Children can find out the answer to these questions in Connijean Murphy's spirited and beautiful The Cookie Fairy and the Bear!
Connijean Murphy is a lover of nonfiction stories and truly a kid at heart, and some of her work is based on sculptures she has created and behind which she thought there should be a story.
A writer, sculptor, and artist, Ms. Murphy has seen her poetry published in The Colors of Life (2003) and Who's Who in Poetry (2004) through the International Library of Poetry. She is a long-time member of the United States Bowling Congress as well as the American Poolplayers Association.
The Cookie Fairy and the Bear is a 30-page paperback with a retail price of $16.00. The ISBN is 978-1-4349-0483-6. It was published by Dorrance Publishing Co., Inc of Pittsburgh, Pennsylvania. For more information, or to request a review copy, please visit our virtual pressroom at http://www.dorrancepressroom.com or our online bookstore at http://www.dorrancebookstore.com.
###