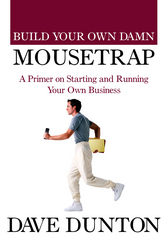 seldom does anything the way others do
Seal Beach, CA (Vocus) July 14, 2010
Build Your Own Damn Mousetrap: A Primer on Starting and Running Your Own Business by Dave Dunton has been released by Dorrance Publishing Co., Inc.
Living up to his title as the "comeback kid," Dave Dunton proves that attitude goes a long way in overcoming adversity. But it's not just any attitude, as he will quickly tell you.
Dunton proudly proclaims that he "seldom does anything the way others do," and his method of giving advice echoes that statement perfectly. Rather than writing what he would consider a dry, boring autobiography, Dunton has integrated his own serious experiences with funny quips, personal anecdotes, and detailed guidance in order to show people how, if tackled with some thought, most negative situations can be triumphed and made into a story of success. Despite a multitude of setbacks ranging from a difficult childhood to addictions, to cancer; he has gone on to complete the Ironman Triathlon and run a small business, all the while maintaining his sense of humor and individual vantage point.
Combining his comeback story with poignant advice to others, especially those considering self-employment, Dunton shows us that by seeking help in the right places and keeping the world in perspective, we too can conquer our obstacles and achieve our passions.
A bike shop owner from Topeka, Kansas, Dave Dunton has one child, John; a child bride, Kim and two adopted Samoyeds. He received his BSBA and MSBA from the University of LaVerne, and he is a certified biomedical engineer from the University of California, Irvine. He enjoys swimming, cycling, and dog-washing.
Build Your Own Damn Mousetrap: A Primer on Starting and Running Your Own Business is a 186-page paperback with a retail price of $18.00. The ISBN is 978-1-4349-0616-8. It was published by Dorrance Publishing Co., Inc of Pittsburgh, Pennsylvania. For more information, or to request a review copy, please go to our virtual pressroom at http://www.dorrancepressroom.com or to our online bookstore at http://www.dorrancebookstore.com.
###