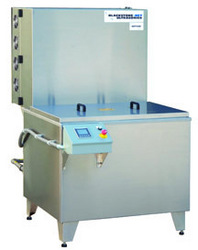 Cincinnati, OH (PRWEB) July 15, 2010
Blackstone-NEY Ultrasonics, a Division of the Cleaning Technologies Group, LLC, a Cincinnati based manufacturer of precision parts washers, is proud to introduce the new AgiSonic™ aqueous parts washer.
Also known as the "WashMaster & Grease Monkey Plus™", this robust line of ultrasonic cleaning systems is designed for heavy duty parts washing with vertical parts agitation, and up to 21 watts per gallon/5.4 watts per liter of 40 kHz ultrasonics. (Optional, 25 kHz)
Constructed of all stainless steel and available in three standard sizes with the new universal "U1B" transducers and a new PLC controller, the AgiSonic is completely self-contained with the largest machine accommodating a platform load up to 500 lbs/227 kg with maximum working dimensions of 40"/1,016mm x 30"/762mm x 8"/203mm high.
The AgiSonic™ parts washers are so versatile; they can be found operating in the harshest industrial environment and even in the most demanding medical clean rooms.
Cleaning Technologies Group, LLC is a world leader in providing innovative cleaning and waste minimization technologies to precision and industrial manufacturing markets. CTG is comprised of Ransohoff located in Cincinnati, Ohio, and Blackstone~NEY Ultrasonics located in Jamestown, New York, and now CTG Asia located in Suzhou, China. The Group is the premier provider of high technology, environmentally friendly parts-cleaning and waste-minimization equipment and services to the global marketplace. CTG LLC is a wholly owned subsidiary of NM Group Global, LLC.
NM Group Global LLC is a holding company for a growing group of manufacturing firms with a global reach for sourcing and marketing. Founded in 2002 with the purchase of National Machinery LLC, the original holding company, and world leader in the development and manufacture of cold forming machines, process technology, and aftermarket services. National Machinery, founded in 1874, is headquartered in Tiffin, Ohio with service centers and sales offices throughout the world.
NM Group Global is distinguished by its ability to be acquisitive by having a private equity affiliate, Alpha Capital Partners Ltd. Alpha Capital, founded in 1984, is a private equity investment firm which provides equity financing for promising growth businesses and for buyouts or recapitalization of established companies. Currently Alpha Capital manages over $135,000,000 through its capital partnerships and other equity accounts.
Contact Information:
For Cleaning Technologies Group Asia- Suzhou, China
Enlin Zheng (Ned) & SuJing
56 Songshan Road, Suzhou New District
Jiangsu Province, China PRC: 215151
(86) 0512-66161698
(362) 529-1244
Visit our website at http://www.ctgclean.cn
For Cleaning Technologies Group, LLC:
Chris Whittaker
4933 Provident Drive
Cincinnati, OH 45246
(800) 248-9274
(513) 870-1787
Visit our website at http://www.ctgclean.com
For NM Group Global, LLC:
John Bolte
161 Greenfield Street
Tiffin, OH 44883-2471
(419) 447-5211
Visit our website at http://www.nationalmachinery.com
###