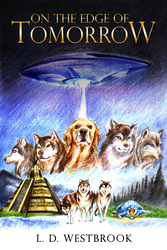 Pittsburgh, PA (Vocus) July 14, 2010
On the Edge of Tomorrow by L.D. Westbrook has been released by Dorrance Publishing Co., Inc
When an old friend asks a washed-up telepathic archaeologist, Nathan Masterson, to help unravel the mysteries of a cave he found along the coast of British Columbia, it sparks a series of events that lead to the discovery of a subterranean underworld filled with unbelievable creatures and the true origins of mankind.
Then, after returning home, a local veterinarian is almost killed on Halloween. When the FBI and CIA get involved, Masterson and his family use all their resources to help her find out why. As they figure out the clues, it takes them and a team of brave explorers to Guatemala where they battle powerful tomb robbers, the Velasco family, at an ancient temple site atop a mysterious mountain.
Masterson and his team soon learn to question the facts we have always taken for granted as they embark on yet another quest to free the Andean underworld of the evil forces, which control the ancient city of Akakor, far below the surface.
In the meantime, the CIA and FBI uncover factions of the government that are controlled by not only the Velascos but a secret society who are planning to kill the president.
Originally from Tennessee, L.D. Westbrook graduated from South High School in Knoxville. He has resided in Washington State for the past forty years, where he recently retired from a local paper mill. It was his interest in history that caused him to write this adventure story of another possibility to man's origins.
On the Edge of Tomorrow is a 572-page hardcover book at the retail price of $36.00. The ISBN is 978-1-4349-0477-5. It was published by Dorrance Publishing Co., Inc, of Pittsburgh, Pennsylvania. For more information, or to request a review copy please visit our virtual pressroom at http://www.dorrancepressroom.com or our online bookstore at http://www.dorrancebookstore.com.
###