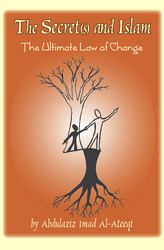 (Vocus) July 14, 2010
In the Secret(s) and Islam: The Ultimate Law of Change by Abdulaziz Imad Al-Ateeqi has been released by Dorrance Publishing Co., Inc
The connection—or separation—of mind and body has long been a contentious subject of study by scientists, psychologists, and philosophers.
In The Secret(s) and Islam, Abdulaziz examines the Law of Attraction and the role of external forces in shaping one's behavior. He points out the psychological mechanisms by which the media, for example, has been trying to influence our thinking, in the process giving us the same means by which to wrestle back control of our own minds, and ultimately, of our own lives. In showing how the choice of words to live by shape our own lives, he hints of a way to effect personal changes with less physical stress and mental strain, perhaps meaningfully in a short span of time.
Being a Muslim, Abdulaziz sees uncanny resemblance between the Law of Attraction and some teaching of Islam, prompting him to add Quranic and Hadeeth sections to the book, for those who sought them.
Abdulaziz Imad Al-Ateeqi, a native of Kuwait, was born on August 15, 1979. He graduated from the Royal Military Academy Sandhurst in Great Britain on 2001, followed by numerous British military leadership courses. A Kuwaiti officer and descendant of historic leaders, his intellectual exploration culminates into his writing of this book.
The Secret(s) and Islam: The Ultimate Law of Change is a 96-page paperback at the retail price of $13.00. The ISBN is 978-1-4349-0554-3. It was published by Dorrance Publishing Co., Inc, of Pittsburgh, Pennsylvania. For more information, or to request a review copy please visit our virtual pressroom at http://www.dorrancepressroom.com or our online bookstore at http://www.dorrancebookstore.com.
###