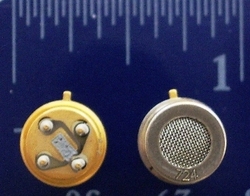 The new MikroKera product line will support the growing demand for innovative, low cost and low power chemical sensors
Longmont, CO (PRWEB) July 14, 2010
The MikroKera™ family of sensors utilizes Synkera's unique micromachined, nanostructured ceramic microsensor platform made from anodic aluminum oxide (AAO). This patented microsensor platform offers an unprecedented combination of performance, reliability and scalability that will ultimately enable development of a complete family of sensors for existing and emerging industrial and commercial applications.
Both the new MikroKera™ and Synkera's current line of ProKera™ sensors are designed to accommodate the complex and challenging requirements of instrument and systems manufacturers.
The first two MikroKera™ sensors use the same sensing materials that have been successfully deployed in our longstanding ProKera™ VOC and hydrogen (H2) sensors, while reducing power consumption to one quarter that of the ProKera™ line, enabling new opportunities in portable and wireless applications. Additional MikroKera™ sensors for detection of chlorine (Cl2), ammonia (NH3) and hydrogen sulfide (H2S) will be introduced later this year.
Click here for more information on these and other Synkera sensors.
###