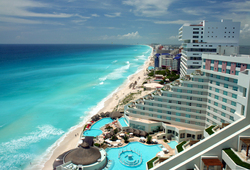 Hotels in Cancun have dropped prices anywhere from 18-25% in the last two months
Miami, Fl (PRWEB) July 14, 2010
Jorge Schmidt is a Florida resident that every year for the last 8 years travels to Cancun, Mexico and spends 5 days in the Riviera Maya with his wife Brenda. These days Mr. Schmidt has seen better deals for hotels in Cancun than ever and is no surprise if he finds himself saving on airline tickets as well.
"Hotels in Cancun have dropped prices anywhere from 18-25% in the last two months" According to Juan Palacio –CancunHotels.com C.E.O. "You can find a great 4 stars hotel with free Wi-Fi internet and breakfast for $180 (per night) when a few months ago that same room can easily cost $275 (night)" says Palacio.
For example The Meridien Cancun Resort and Spa is offering a one deluxe room for $183 per night* ($263 regular price) for this summer, The Grand Melia Cancun is offering rates as low as $150 per night* ($192 regular price) also available all summer long, and all inclusive resorts like the Royal Solaris Cancun Resort, Marina and Spa are offering special rates as low as $152 per night* for the summer months.
Hotels aren't the only travel component that got cheaper when traveling to Cancun, AirTran Airways, a subsidiary of AirTran Holdings, Inc. announced yesterday a huge sale for travel to the airline's Caribbean destinations including Cancun with special low fares. Some Sample Fares**:

Atlanta - Cancun $70
Baltimore/Washington-Cancun $85
Bloomington, IL - Cancun $95
Milwaukee - Cancun $95
Rochester, NY - Cancun $95
These special fares are available for purchase until July 15, 2010, and are good for travel from August 25, 2010, through October 21, 2010. Like all AirTran Airways fares, prices included in this sale are available for one-way travel and do not require a roundtrip purchase or an overnight stay .
Cancun has been in the news these days with celebrities like Angelina Jolie that recently was in the Riviera Maya promoting her latest movie "Salt" or with Mexico's top broadcaster Televisa announcing on Monday it is interested in providing telecommunication services at an airport the government plans to build in the area.
There are so many things to do in Cancun and now there is so much money to save when traveling there. Cancun Hotels are expecting more people like Mr. Schmidt these days, so pack your bags because the sunny beaches and the sparkling turquoise water of the Caribbean may be closer and these days cheaper than you think.
*For full prices and details please visit http://www.cancunhotels.com, prices subject to change without prior notice.
** For details on Airtran prices visit Airtran(dot) com
###