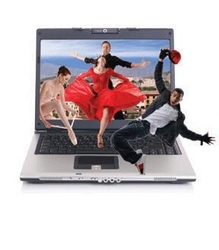 Join us at the Creative Oasis and learn from the top master dance teachers, choreographers and business coaches
Las Vegas, NV (PRWEB) July 14, 2010
The Dance Teacher Web Conference & Expo is returning to Las Vegas for its 2nd year and, because of its increasing size and demand for a conference space that is intimate yet large enough to accommodate participants and exhibitors in close proximity, the event will be taking up residence at the fabulous Red Rock Resort & Spa. Dance teachers from around the world attend competitions in Vegas all year long with their students, but this is the one occasion when they can focus on themselves, immerse themselves in learning and enjoy everything that Las Vegas has to offer.
The Dance Teacher Web Conference & Expo, launched from their internet base of operations, the member-only Dance Teacher Web, presents a comprehensive four day curriculum with over 70 movement and business seminars, from technique classes in hip hop, afro jazz, ballet, tap and partnering to sessions dedicated to helping small businesses run more smoothly and profitably. Some of the business seminars include "How to improve your customer service," "Marketing trends for 2011" and "21 ways to increase profits"—all essentials for the often teacher-run operations that most business marketers ignore. " If you are a dance teacher or have a desire to be one, than this event is for you" says conference co-producer Julie Davis.
This year's event will again feature an all-star cast of master teachers and business leaders, both wildly popular speakers from the Dance Teacher Web Conference & Expo's inaugural year and new ones. Wayne Sleep, British star of ballet and musical theater, Tapper Ryan Kasprzak from "So You Think You Can Dance", top business and life coach Mikki Williams and dance innovators Steve Sirico and Angela D'Valda Sirico will headline the conference presenters. Performers will include stars of the Melbourne and Boston Ballet to the Hip Hoppers The Striker All-Stars from "America's Best Dance Crew" adding to the international flavor of the event. "We have such a diverse group of teachers, choreographers and business consultants that this is truly the only international dance teacher event" notes Angela D'Valda Sirico
For those in the Las Vegas area during the event you can attend the Expo free of charge. The top vendors of everything dance—from costumes to flooring to backdrops—will be exhibiting and offering special discounts and incentives.
The Dance Teacher Web Conference & Expo takes place August 8 through 11, 2010 at the Red Rock Resort & Spa. To register, visit Dance Teacher Expo or call 203-545-7167.
###