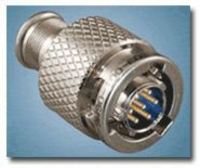 Moorestown, NJ (PRWEB) July 29, 2010
Interstate Connecting Components, Inc. (ICC) is one of the largest stocking distributors of Glenair Series 80 "Mighty Mouse" Connectors. Much smaller and much lighter than the 38999 connector series, the "Mighty Mouse" has become the connector of choice for military and commercial applications where weight and space are at a premium. The "Mighty Mouse" reduces weight by as much as 71% and reduces space by as much as 52% compared to corresponding MIL-DTL-38999 connectors, yet it retains the same environmental, mechanical, and performance characteristics as the larger connector. Already specified in many major defense programs, "Mighty Mouse" Series 80 is ideal for military land vehicles, ships, submarines, and commercial electronic systems where the available space for interconnect cabling is severely limited.
ICC offers a wide range of "Mighty Mouse" available to ship from stock, including:

Series 800 Light Duty UN Thread
Series 801 Heavy Duty Double-Start
Series 802 "Aqua Mouse" Harsh Environmental
Series 803 Bayonet
Series 804 Quick-Disconnect
Series 805 Triple-Start
Single-Mode and Multi-Mode Fiber Optic Connectors
Series 80 Contacts and Tools
EMI/EMP Filtered Connectors
Series 80 Backshells and Accessories
For more information on ICC's extensive stock of Series 80 "Mighty Mouse" Connectors, and other lines of connectors, backshells, and related accessories, please visit http://www.connecticc.com.
About Interstate Connecting Components, Inc.
ICC is one of the pre-eminent world-class distributors of the entire spectrum of electronic connectors, fiber optic connectors, connector accessories and tools, cable marking systems and supplies, and interconnect contacts. ICC services leading defense contractors and commercial manufacturers world-wide, including first-, second-, and third-tier OEMs in the aerospace, Department of Defense, homeland security, shipbuilding, avionics, telecommunications, and broadcast markets.
# # #