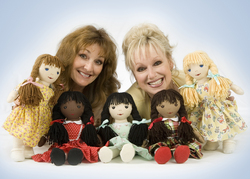 BUENA PARK, CA (Vocus) July 14, 2010
Kathy and Janet Lennon will be signing their award-winning product line, Best Pals, at Knott's Berry Farm's 2010 Doll Event on Saturday, July 24 and will also be hosting a special tea party on Sunday, July 25 at Knott's Golden Trail Hotel inside Knott's Berry Farm.
The celebrity sisters, who still perform in Branson and select venues throughout the year, developed their doll line based on their lifelong friendship and their love for a pair of ragdolls handmade for them by their mother and their Nana in 1949. These wholesome toys, with a nod back to their 1950's childhood, were developed especially for parents and grandparents looking to provide their children and grandchildren with high quality toys at affordable prices.
Knott's Doll Event will take place at Virginia's Gift Shop located in Knott's Marketplace from 10 am – 2 pm. Linda Rick, the president and artist of the Doll Maker and Precious Moments, will also be on hand to sign purchases. Other doll lines featured at the event include Arista, Charisma, Key to My Heart, Marie Osmond Dolls, The Ashton-Drake Galleries and Lee Middleton Moments. Knott's Marketplace is open to the public and does not require park admission. Three hours of free parking is also available.
A "Tea Party with Best Pals" with Kathy and Janet Lennon will take place from 1pm – 3 pm on Sunday, July 25 at the Golden Trails Hotel inside Knott's Berry Farm's famous Ghost Town area. Park admission is required for this event.
To find out all the summer activities at Knott's Berry Farm and to download a money-saving flyer for the Doll Event, visit http://www.knotts.com.
Contact:
Jennifer Blazey
Knott's Berry Farm
(714) 220-5131
jennifer.blazey(at)knotts(dot)com
###