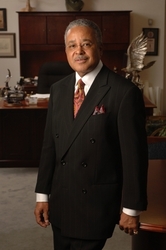 It is with mixed feelings that I announce my decision to retire
Nashville, Tenn. (Vocus) July 13, 2010
Meharry Medical College President and CEO Wayne J. Riley, M.D., MPH, MBA, MACP is announcing the retirement of the Dean of the Meharry Medical College School of Dentistry, William B. Butler, DDS, MS, FACP. Butler has served in this position for the past 10 years. His retirement is effective July 31.
Two-time Meharry Alumnus Billy R. Ballard, D.D.S., M.D., will serve as interim dean. Meharry is launching a national search for a new Dean of the School of Dentistry. Butler will continue serving at Meharry as Professor Emeritus in the Department of Restorative Dentistry, and Senior Advisor to President Riley.
"It is with mixed feelings that I announce my decision to retire," Butler said. "As I look back over my career, I realize how truly blessed I have been. It has been an honor and a privilege working at Meharry on the mission of meeting the health care needs of the underserved and living up to our motto, 'Worship of God Through Service to Mankind.'"
Butler has been with Meharry for 33 years. During this time, he has served as Chair of the Department of Prosthodontics for 16 years and Associate Dean for Academic Affairs for one year before his appointment as dean. Notable accomplishments under Butler's time as dean include upgrades to the dental equipment in all dental schools, implementation of the first White Coat Ceremony for junior dental students at Meharry, and establishment of a dental implantology program and electronic dental records.
One of the greatest accomplishments under Butler's leadership was successfully completing a rigorous accreditation site visit conducted by the American Dental Association Commission on Dental Accreditation that resulted in a "sterling" review for the School of Dentistry.
"Dr. Butler's accomplishments during his full 33-year tenure at Meharry are indeed impressive and have positioned the School of Dentistry for further growth and development in the years ahead," Riley said. "By recruiting numerous, highly qualified faculty and by improving the caliber of matriculating students, Dr. Butler has been able to foster significant enhancements that have helped to improved the quality of education at Meharry."
About Meharry Medical College
Meharry Medical College is the nation's largest private, independent, historically black academic health center dedicated solely to educating minority and other health professionals. True to its heritage, it is a United Methodist Church affiliated institution. The College is particularly well known for its uniquely nurturing, highly effective educational programs; emerging preeminence in health disparities research; culturally sensitive, evidence-based health services; and significant contribution to the diversity of the nation's health professions workforce. Diverse Issues in Higher Education's ranking of institutions annually lists Meharry as a leading national educator of African Americans with M.D. and D.D.S. degrees, and Ph.D. degrees.
###