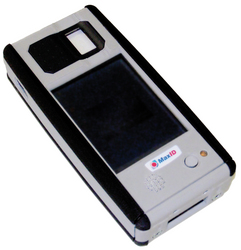 Pleasanton, CA (Vocus) July 15, 2010
MaxID Corp, a leading global provider of identity has expanded its line of rugged multi-modal computer solutions with the introduction of the iDL300.
Michael McCloskey, Chairman of MaxID Corp, noted, "The iDL500 has established itself in the market place as a world-class machine being deployed in the most demanding applications. The iDL300 brings to the table a dramatically new form factor and all of the power of its larger iDL500 cousin. We believe that workers in the border management, maritime security, and perimeter security industry will appreciate the combination of small size, ruggedness, performance and software compatibility with the remaining MaxID Corp product lineup."
The iDL300 is a multi-modal, rugged mobile computer that offers a comprehensive set of features, including contactless card, barcode, optical fingerprint, 3G, WiFi and Bluetooth communications capability, a 640 X 480 pixel 3.7" color TFT LCD display readable in sunlight. The iDL300 can be the basis for a complete, integrated mobile solution for all badging and identity management requirements. When users need to read TWIC, SID, CAC, PIV, PIVI, FRAC or SAM cards, passports, driver's licenses as well as use the other on-board biometric functions to verify identity. The iDL300 does it in a light, 1 lb (450g), compact, easy-to-use form factor and runs the Microsoft Windows CE 6.0 operating system.
The iDL300 is expected to be available in September for general release.
About MaxID Corporation
MaxID Corp is a leading provider of identity and security solutions. It designs, manufactures and sells identity management solutions for a mobile environment. The company is headquartered in Pleasanton, California, and has offices in Virginia Beach, Virginia, the United Kingdom and South Africa. MaxID Corp maintains a global research and development team that has more than 20 years experience introducing new technologies. The company's most advanced biometric handheld devices are manufactured in the United States and are distributed worldwide. More than 25,000 identity devices are being deployed worldwide by customers such as the US Department of Defense, the US Department of Homeland Security, border and law enforcement agencies, and power generation and maritime facilities. For more information about MaxID Corp, please refer to the website maxidcorp.com.
###