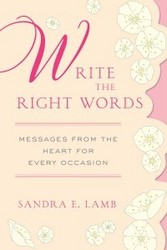 Write the Right Words, says Lamb, "is for everyone who wants to keep those important heart-to-heart connections with family and friends strong--in happy times, sad times, and for no particular occasion--by sending a special handwritten message on a greeti
Denver, CO (PRWEB) July 15, 2010
"What can I write?"--to a friend, sister, or sister-in-law when she loses her job? The answers are contained in the new book: Write the Right Words by Sandra Lamb, Lifestyle, Career and Etiquette Expert (St. Martin's Press).
"It's good to know what she's feeling first. It will help you empathize," says Sandra Lamb. Then, Lamb advises, write a note that:
Acknowledges the her loss: "I just heard you lost your job."
Tells her you care: "I was so sorry to hear it."
Makes a positive statement: "You are an exceptionally talented graphic artist…"
Shares a memory that illustrates your statement: "You, alone, won the 'Best Graphic Design' Award three times…"
Reminds her of her strengths: "You're the bravest person I know. I've seen you overcome odds that would defeat most people…"
Offers real help or support: "Here are two people I know who are looking for a graphic artist with your extreme talents. Please mention my name…"
Write the Right Words, says Lamb, "is for everyone who wants to keep those important heart-to-heart connections with family and friends strong--in happy times, sad times, and for no particular occasion--by sending a special handwritten message on a greeting card." This book, she says, "is for those moments--and we all have them--when we just can't think of the right thing to add to the card's verse. It's all there in our hearts; this book just helps get those caring words down on the card."
Write the Right Words offers readers:
Scores of sample messages for any and all kinds of life situations,
Etiquette guidelines for the stickiest of social dilemmas,
History on holiday traditions,
Words from the masters that can inform, enlighten, uplift, and even sometimes create peals of laughter.
A month by month record of all those important people and their important life dates. "You'll never miss Mom's birthday again," Lamb adds.
Sandra Lamb is the author of the award-winning books, How to Write It, and Personal Notes; and is currently at work on her first narrative nonfiction book. She's a former columnist for The Denver Post and the Rocky Mountain News, and often writes for national magazines. Her features have appeared in such publications as Woman's Day, Family Circle, Working Mother, Ladies' Home Journal, and many others. She also often speaks on topics of communications, career, etiquette, women's issues, and ethics.
Write the Right Words is available through http://www.SandraLamb.com/; directly from online bookstores, Amazon.com or BarnesandNoble.com; or at your local bookstores.
###