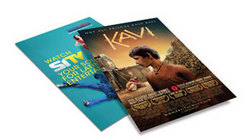 As with all our products, we have the ability to fully customize posters and booklets. This makes them appropriate for all our customers, whether an individual, small business, or large company. Our customers can be confident that they are getting the best prices we can offer, along with unparalleled speed and consistent high quality
Compton, CA (Vocus) July 15, 2010
Next Day Flyers, the printing company that specializes in the industry's quickest turnaround of full color promotional materials, last week announced price reductions from 25%, to more than 50%, for many of their posters and booklets. This decision gives customers greater purchasing power for these versatile marketing materials.
"We want customers to be able to maximize their budgets, so they can get their message out as needed," says Dave Handmaker, CEO and founder of Next Day Flyers. "So we reduce prices when and where we can, and we invest resources in areas such as the company blog, in order to provide useful design tips and marketing ideas for our customers."
Posters and booklets are versatile marketing tools. Posters are a highly visible and effective for nonprofits, event planners, restaurants, bars, designers, and more. By lowering prices so drastically, Next Day Flyers has made this powerful marketing tool accessible to everyone.
Booklets and catalogs are a great way to showcase products and services, make great instruction manuals, game and event programs, informational pamphlets, and professional presentations.
"As with all our products, we have the ability to fully customize posters and booklets. This makes them appropriate for all our customers, whether an individual, small business, or large company. Our customers can be confident that they are getting the best prices we can offer, along with unparalleled speed and consistent high quality," says Handmaker. "As a company, we are all about forming long-term relationships with our customers. Lower prices are part of our commitment to that relationship," he concludes.
Some of the poster and booklet sizes included in the price reduction are 11x17 cardstock posters, 12x18 cardstock posters, 13x19 glossy posters, 8.5x5.5, 8-page booklets, and 8.5x11, 8-page booklets. To learn more about specific product sizes and the new lower prices, go to the Next Day Flyers' poster and booklet printing pages.
About NextDayFlyers.com
Next Day Flyers is an online printing company that delivers top-quality printed marketing materials with the fastest turnaround time in the industry. They offer next business day printing, online ordering, free design templates, and specializes in full color printing of custom business cards, flyers, and postcards, as well as specialty die cuts and other marketing materials. Customers have easy access to price-friendly custom promotional and direct mail material. Next Day Flyers has a committed focus on building lasting customer relationships and strives to exceed customer expectations at every point of interaction.
Media Contacts:
Karen Daniels
310.747.3868
Natalie Pietrzykowski
310.747.3876
###