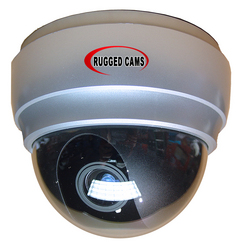 ..our mandate is to manufacture low cost marine cameras that are impervious to rust or corrossion.
Kemp, Texas (PRWEB) July 15, 2010
Marine environments are tough on security cameras. High humidity, moisture, salt and other contaminants render most security cameras useless after only a few months of exposure. However one company; Rugged Marine, designs and builds low cost security cameras that not only survive in all types of marine environments, but actually thrive in the harsh conditions found on the waterfront or at sea. Rugged Marine has just introduced a new marine security camera called the Neptune Waterproof Dome Camera. This waterproof marine camera owes it's longevity to a special formulation of UV-Resistant ABS plastic that thwarts rust and corrosion.
"Most manufacturers of marine-grade security cameras focus mainly on stainless steel construction because it is a proven material for marine environments", says Allen Spears, Chief Engineer for Rugged Marine, a manufacturer of marine security cameras, "But the typical cost of stainless steel marine security cameras are astronomical." he says. "Our marine customers no longer have unlimited budgets in this economy, and are continually seeking lower cost alternatives that will still stand up to the rigors of marine life. So, our mandate is to manufacture low cost marine cameras that are impervious to rust or corrosion."
The Neptune Waterproof Dome Camera is an Ultra High Resolution Dome Camera that is rated to IP68 standards, and will stand up to anything that life on the water can throw at it.
The result is the Neptune Digital Dome Camera from Rugged Marine. The Neptune is Rustproof, Waterproof, Weatherproof, Corrosionproof and Chemical-Resistant. The Neptune Dome accomplishes these tasks in a variety of ways. First, the camera body is cast with a special formula ABS plastic that is impregnated with UV and Rust inhibitors. Then, the camera and lens cavity is protected from water or moisture incursion with a special double O-Ring seal.
The Neptune packs an amazing 580 lines of Resolution in a small, but tough package. It also has a Manual Zoom lens that is adjustable from 4mm to 9mm, allowing you to fine-tune for any view you need. The Neptune is ceiling mounted – indoors or out. The Neptune can be mounted on boats, ships, marinas, docks, car washes, waterparks, trains, trucks or anywhere you find wet or wash-down environments.
This is no dumb security camera though. There are brains behind the beauty. The Neptune Dome employs a technologically advanced High Resolution, Day/Night Sony 1/3" Super HAD II CCD camera module, married to a Sony HQ1 Digital Signal Processor (DSP), that gives the camera a whole host of light-handling features. Neptune is equipped with Automatic Gain Control (AGC), Automatic White Balance (AWB), and Backlight Compensation (BLC) functions that are all built-in and fully automatic.
The Neptune Dome camera features Sony's WDR light control (Wide Dynamic Range), technology that will automatically boost low-light scenes and tone down any bright lighting or glare.
The Neptune Dome is in use at a wide variety of businesses, boats, marinas and docks all over the world. Feedback from purchasers and installers has been overwhelmingly positive. They like the high tech features and the flawless digital video, but they seem to be truly impressed with the low cost. Rugged Marine has priced the Neptune Dome Security Camera barely above $100. That is an absolutely amazing price for a marine camera – especially one that comes with a Two-Year Warranty. The Neptune is the lowest priced completely submersible dome camera on the marine market to date. There is no other IP68 rated marine camera out there for this price. The Neptune Dome Camera also has CE, FCC and RoHS certification.
Founded in 1993, Rugged Marine is a leading manufacturer of innovative security cameras and DVR's for businesses and properties of all types.
Rugged Marine is a registered trademarks or trademarks of Rugged CCTV in the United States and/or other countries.
For more information, press only:
Allen Spears – Rugged Marine
1-866-301-2288
201 N. Elm St.
Kemp, TX 75143
http://www.marinecamerasystems.com
For more information on the Neptune Dome Security Camera:
http://www.marinecamerasystems.com/weatherproofdomecamera.shtml
###