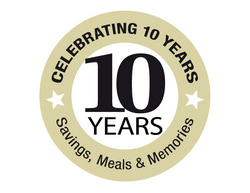 Restaurants are the social centers of our communities and Philly G's is a great example of how tradition and quality food brings family and friends together
Arlington Heights, IL (PRWEB) July 14, 2010
Restaurant.com today announced that Philly G's has been named the featured restaurant for July for the "Restaurant of the Month" program. Acknowledged as one of America's top Italian restaurants by Zagat, Philly G's earned the Restaurant.com recognition for its dedication to tradition and commitment to serving authentic Italian cuisine.
Through the Restaurant of the Month webpage, (http://www.Restaurant.com/PhillyGs), site visitors can learn about the owner, Phil Gilardi Jr. and the generations of Gilardi family culinary customs that are the foundation of Philly G's today. In addition, site visitors can enjoy an exclusive recipe for a popular Philly G's dish and discover other Italian restaurants on the Restaurant.com program.
"Restaurants are the social centers of our communities and Philly G's is a great example of how tradition and quality food brings family and friends together," said Cary Chessick, Restaurant.com president and CEO. "What better place to enjoy a well-served meal than at a family owned business that has put years of hard work into every dish they serve."
The Restaurant of the Month selection process is based on criteria including the restaurant's popularity with diners, high standards for service, unique cuisine, memorable ambiance, history and more. Located in Vernon Hills, Ill., a northern suburb of Chicago, Phil
Gilardi, Sr. opened "Gilardi's" in 1985 and joined the Restaurant.com program in 2001. In 2005, his son, Phil Gilardi, Jr. took over and renamed the restaurant "Philly G's" and continued the family tradition of successful restaurateurs. Using authentic Italian recipes passed down from Gilardi's great grandmother, Philly G's menu offers diners an array of Italian classics that Gilardi grew up enjoying. From the house that was restored to create the restaurant's intimate, home-like setting to the Philly G's credo that all staff are part of the family, Gilardi has put a large effort into ensuring the restaurant presents an inviting family atmosphere.
"Philly G's is based on rich heritage and we strive to serve its guests as if they themselves were family," said Phil Gilardi Jr., owner of Philly G's. "Restaurant.com allows us to reach new 'family members,' and it is an honor to be recognized for our efforts as we continue to serve the community."
As part of the as recognition as the Restaurant of the Month, Philly G's is featured on the Restaurant.com homepage with a link that directs site visitors to the "Restaurant of the Month" webpage. The webpage features information about Philly G's including a recipe for "Chicken Gilardi," one of the restaurant's most popular dishes. In addition, the page offers a gallery of photos showcasing the restaurant's unique layout of individual rooms that give guests a feeling they are dining in someone's home. Restaurant.com also includes a search box of popular cities on the page so site visitors can search for local Italian restaurants and explore many other options in the Restaurant.com program.
Throughout 2010, Restaurant.com is paying tribute to devoted customers, restaurant partners, clients, staff and community members through a series of 10 year anniversary activities. The Restaurant of the Month program continues the celebration. Philly G's joins Trece Mexican Kitchen and Tequila Lounge, Phillips Seafood, Fior d'Italia and The Claddagh Irish Pub as honored restaurants since the program's launch in March. To learn more about the Restaurant of the Month program and the spotlighted restaurant for July visit: http://www.Restaurant.com/PhillyGs.
About Restaurant.com
Restaurant.com is the trusted and valued source connecting restaurants and diners nationwide. The company offers savings at more than 15,000 restaurants nationwide with more than 30,000 daily gift certificate options. Restaurant.com brings people together to relax, converse and enjoy well-prepared and -served meals at affordable prices. To date, Restaurant.com customers have saved more than $100 million through the gift certificate program. Restaurant.com has operated since 1999 and is based in Arlington Heights, Ill.
# # #