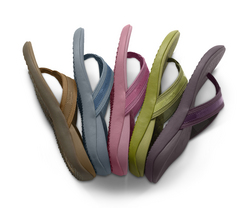 Since we introduced the first built-in orthotic flip flops in Australia over 10 years ago, our customers have found they can have their sandals and comfort, too."
San Rafael, CA (PRWEB) July 20, 2010
Orthaheel's podiatrist-designed shoes and orthotics help the nearly 40 percent of Americans who suffer from foot pain find effective relief without compromising style. As the weather warms up, Orthaheel is launching a new line of stylish, foot-friendly sandals that provide natural pain relief to those who suffer or seek supportive flip flops.
Orthaheel's new sandals include both flip flops and slides in a variety of fresh styles and colors. The new collection offers an array of fashionable details including metallic styles, patent accents and bright stripes, along with neutral customer favorites.
Orthaheel offers the only sandals recommended by both the American Podiatric Medical Association (APMA) and America's leading wellness doctor, Andrew Weil, MD. Invented by Australian podiatrist Phillip J. Vasyli, Orthaheel offers shoes and orthotics for women and men with unique technology that is clinically proven to improve foot function and relieve associated pain.
"Through the years of my practice I have learned that the summer time is the most difficult season for people with foot and lower leg pain," explains Vasyli. "Since we introduced the first built-in orthotic flip flops in Australia over 10 years ago, our customers have found they can have their sandals and comfort, too."
Orthaheel's new collection ranges in price from $54.99 to $64.99 and is available online at http://www.orthaheelusa.com and at specialty footwear retailers nationwide.
About Orthaheel and Vasyli, LLC
Designed by Australian podiatrist Phillip Vasyli, Orthaheel footwear and OTC orthotics restore natural foot function and well-being with every step. Available in more than 25 countries worldwide, Orthaheel foot care products help prevent disruptive and painful wear and tear to the body by realigning feet to their natural position. Orthaheel products provide natural relief from many chronic aches and pains through improved posture and dynamic foot function, offering a biomechanical solution since 1979. A market leader in both Australia and the United Kingdom, the Orthaheel product family includes orthotics, footbeds, lounge slippers, athletic Walkers and sandals. Learn more at http://www.orthaheelusa.com.
About Dr. Andrew Weil and Weil Lifestyle, LLC
Dr. Weil is a world-renowned leader and pioneer in the field of integrative medicine, a healing oriented approach to health care which encompasses body, mind, and spirit. Combining a Harvard education and a lifetime of practicing natural and preventive medicine, Dr. Weil is the founder and director of the Arizona Center for Integrative Medicine (AzCIM) at the University of Arizona Health Sciences Center and a best-selling author. To learn more, visit http://www.DrWeil.com.
Andrew Weil, M.D. donates all of his after-tax profits from royalties from sales of Orthaheel products directly to the Weil Foundation, a not-for-profit organization dedicated to supporting integrative medicine through training, education and research.
# # #