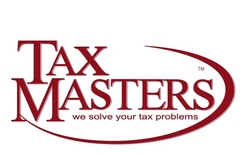 Houston, TX (PRWEB) July 14, 2010 —
TaxMasters, Inc. (OTC Bulletin Board: TAXS) filed a Current Report on Form 8-K on Wednesday, July 7, 2010 to announce that Patrick Cox, its founder, CEO and majority shareholder, voluntarily entered into a Financial Reorganization Agreement in which Mr. Cox deposited 200 million shares of his TaxMasters common stock with TaxMasters' transfer agent, Olde Monmouth Stock Transfer Co., Inc. These shares will be held in escrow by Olde Monmouth for a five year period ending June 30, 2015. During that time, Mr. Cox has waived his right to vote the escrowed shares and he has also waived his right to receive any dividends or other distributions by TaxMasters with respect to the escrowed shares. As a result of Mr. Cox's voluntary escrow of shares, there are now 139,676,105 shares of common stock that can be voted or can receive dividends or other distributions. The 139,676,105 shares will also be the number of shares used to calculate earnings per share for TaxMasters financial statements.
After each fiscal year during the five years that Mr. Cox's shares are being held in escrow, Mr. Cox may claw back a portion of the escrowed shares based on a formula linked to the financial performance of TaxMasters. Any shares Mr. Cox does not claw back prior to June 30, 2015 will be turned over to the Company for cancellation.
As a result of the Financial Reorganization Agreement, shareholders will have an increased voting power in their stock. For example, a shareholder owning 1,000,000 shares of TaxMasters common stock will have an increase of the voting power of such stock from 0.3% of the voting power to 0.7% of the voting power.
"I'm excited to be in a position to offer existing and potential shareholders greater stake in TaxMasters," said Mr. Cox. "After looking at our market cap and our earnings per share, I wanted to be able to offer TaxMasters investors a bit more. Voluntarily placing some of my shares in this type of escrow achieves that."
About TaxMasters, Inc.
TaxMasters, Inc. (OTCBB: TAXS), the IRS tax relief company, is the first publicly traded tax representation firm in the United States. Started by Patrick R. Cox in 2001, TaxMasters offers services and counsel to taxpayers across the country facing seemingly insurmountable tax problems, and relief from substantial federal tax debt.
Employing over 300 people, TaxMasters leverages the expertise of ex-IRS agents, enrolled agents, attorneys, CPAs, and seasoned tax consultants ready to counsel and assist every day people with their specific tax problems today.
For more information about TaxMasters, Inc. and its commitment to help taxpayers in the United States solve tax problems, please visit http://www.txmstr.com.
Follow TaxMasters on Twitter at http://twitter.com/gotaxmasters.
Visit TaxMasters' blog at http://www.txmstr.com/blog/
Forward-Looking Statements
Any forward-looking statements, as defined in the Securities Exchange Act of 1934, in this release (often identified by such words as "believes," "expects," "beginning," "intended," "planned") regarding future expectations, objectives, and plans for TaxMasters, Inc. are based on opinions and estimates of management at the time the statement was made. Various known and unknown factors may cause actual results to be materially different from the expected outcomes. TaxMasters, Inc. does not, as a matter of policy, update or revise forward-looking statements. Actual results may vary materially.
Investors/Media:
Suzanne McGee
(212) 651-4223
###