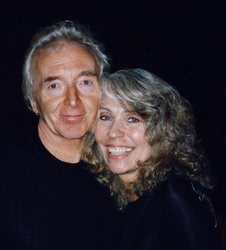 Conservatism in all its dysfunctional glory became our enemy ... it was our evolving sexuality that kept us on track and together.
Vancouver (PRWEB) July 15, 2010
After the tragic death of their son, Rod and Anita Nairne desperately searched for an escape from their stifling, conservative lifestyle and their chiropractic business. "Love is For Sharing" documents their true-life adventure as this middle-aged couple courageously embarks on an outrageous new profession as Sexual Surrogates, or as they jokingly refer to themselves: Prostitutes.
"We refused to acknowledge closure," says Anita. "Instead we opened to the world in ways very few abandoned parents consider."
Rod adds. "Conservatism in all its dysfunctional-glory became our enemy. We searched for expression beyond the confining life of our chiropractic office … a family practice that we nurtured together into a very successful business."
Living the agony of their child's death they drew closer. "We searched every corner of spirituality. Our life was consumed with work, travel and meditation; it all helped diffuse the pain but, truthfully, it was our evolving sexuality that kept us on track and together. My Catholic childhood was of little help," explains Anita. "The church in no way prepared me for the incredible pain of our son's death."
"I was raised an atheist." Rod expounds. "Try that on for size after your child has been killed."
Thirteen years after their son's death the chiropractic practice remained a symbol of the conformist life they were running from; they sold the office. They needed a new focus: A profession where they could work together and continue to help others. For ten years---with a plan to document their adventures---they provided "Fantasy Relief Therapy" as Sexual Surrogates. During those years their relationship flourished. Their sexual knowledge and compassion for others increased dramatically as they physically and emotionally explored the sexual dreams of others.
"Love is For Sharing" is their co-authored autobiography that details those ten years while it reflects on their first thirteen years of surviving overwhelming tragedy. Their book contrasts the battle through grief with the humor and vitality of surrogate sex. The incredible intimacy of death weaves with remarkable empathy into the provocative web of illicit intimacy. The female and male voices ebb and flow and ultimately bond as Rod and Anita walk the tightrope of emotions that allowed them to bridge death and sexuality.
"It is far more intimate to speak of a child's death than to reveal sexual secrets." Anita and Rod.
"Love is For Sharing" published by http://www.GreatLittlePublishing.com
See the full video interview with Rod & Anita at http://www.InTheBook.tv
For more information or to schedule an interview
online contact: Steve Wilcox at http://www.GreatLittlePublishing.com
Phone: (604) 629-5890
# # #