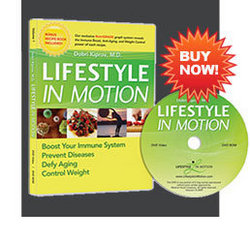 There are certain foods which aggravate stress and should be avoided at all cost.
San Francisco, CA (PRWEB) July 14, 2010
We've been living through the worst recession since the Great Depression. On a daily basis we hear stressful news reports: unemployment, war, the most devastating oil spill on record. These are collective stressors. Add these to our individual stressors, which could include family or health problems, and we have the formula for a nation in anxiety overload. As a way to cope, many of us live on a stress diet which is hurting our health. But stress eating could actually help us.
According to Dobri Kiprov, M.D. and creator of Lifestyle In Motion, "There are certain foods which aggravate stress and should be avoided at all cost. For example, candies and sweets can cause a short burst of energy due to a rapid increase of blood sugar which leads to the release of insulin. The insulin breaks down the sugar fast, which results in an energy dip, often referred to a sugar crash. These energy highs and lows worsen stress. Avoiding caffeine is also key during stressful times."
A world-renowned immunologist, Dr. Kiprov emphasizes that although anxiety is often thought of in terms of how it affects our emotional health, it directly affects our body. Stress leads to the formation of unusually high levels of free radicals. Free radicals are products of oxidation. The continuous production of an excessive number of free radicals leads to an "oxidative state" which may cause diseases, including diabetes and cancer.
So, how can you de-stress without reaching for a latte or candy bar?
Dr. Kiprov suggests a healthy stress-eating diet which includes food rich in antioxidants; as they will offset the free radicals. He also advises choosing seasonal foods, such as fruits and vegetables with different colors for maximum antioxidant intake.
"There are certain foods which contain B vitamins and other substances such as folic acid, zinc and iron, all of which boost the production of the 'feel good' hormone, serotonin," Dr. Kiprov explains. "Beef, milk, cheese and fresh vegetables can make for excellent comfort food."
Dr. Kiprov emphasizes that the most effective way to relieve stress and support health is through a combination of exercise, lifestyle changes and wise food choices. "Life equals motion," Dr. Kiprov continues. "It is a combination of these factors that makes for a healthy, happy life."
Lifestyle In Motion is a unique program created by Dobri Kiprov, M.D. to boost the immune system, prevent disease, defy aging and control weight. To learn more, visit http://www.lifestylesinmotion.com or http://www.dobrikiprov.com.
###