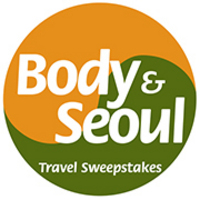 New York, NY (Vocus) July 14, 2010
The "Body and Seoul Sweepstakes," a health and wellness travel sweepstakes to Seoul, South Korea, is in the last week of registrations, and will officially close to registrants on Monday, July 19, 2010 at 5:59 p.m. (EDT). The Korea Health Industry Development Institute (KHIDI) announced the launch of the Sweepstakes on June 26, as part of a long-term campaign to promote the benefits of receiving healthcare and medical treatments in South Korea.
The grand prize winner of the "Body and Seoul Sweepstakes" and a traveling companion will receive a round trip flight in business class and six nights' accommodation at the JW Marriott Hotel, Seoul. The winner will have an opportunity to tour and sightsee Seoul, and will also receive a combination of Eastern and Western health and wellness services from the following sponsors:

VIP Health check-up at Seoul St. Mary's Hospital
VIP dental checkup and teeth whitening at the Seoul National University Dental Hospital
Traditional Korean Medicine treatments at the East West Neo Medical Center including massage, herbal medicine, acupuncture, and dietary therapy
Full skincare services selected from a menu of options provided by Arumdaun Nara Beauty Clinic
A full day of spa services provided by the Konjiam Resort
Transportation to and from the hotel and to each health and wellness service by Hyundai Medis
The approximate retail value of the sweepstakes prize is $10,000. For more information or to enter the sweepstakes, visit http://www.bodyandseoulsweepstakes.com to complete the online registration. The contest is open to residents of the contiguous United States who are 25 or older; and the grand prize winner will be selected from a random drawing.
About KHIDI:
The Korea Health Industry Development Institute (KHIDI) is a government-funded institution established for the purpose of contributing to the improvement of the people's health and the nation's economic development. KHIDI promotes the health, medical, and bio industries as the core industries of the 21st century's knowledge based economy and the nation's core strategic industries. To learn more about KHIDI, please visit http://www.medicalkorea.or.kr.
###