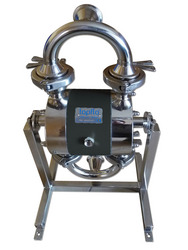 These pumps are designed to exclude concealed nooks or horizontal surfaces where liquids could remain after use and provide a breeding-ground for bacteria. All surfaces in these pumps are designed to be smooth and sloping hence very easy to use and clean!
Irvine, CA (PRWEB) July 14, 2010
The new Tapflo pumps use all components approved by FDA to create a new design of pumps that have polished internal surfaces to handle the most sensitive liquids gently without retaining any residue after. That is the key criterion for most demanding hygienic pharmaceutical, food, dairy and biotech applications. If there is any residue left in small nooks or surface imperfections it could potentially contaminate the next batch being pumped. Tapflo's design eliminates that possibility with their new design of smooth internals for the pumps.
The new Tapflo pump series is certified by EHEDG, the European Hygienic Design Group, and the leading organisation for industry equipment certification in Europe. 'Our new aseptic membrane pump will open new doors for us," said Tapflo managing director, Håkan Ekstrand who further added, "Developing a new pump is always costly, but we can see major opportunities for growth in new areas of business generated by this new series."
The pump series will come in three sizes and cover most market needs starting with the smallest which is capable of 94 liters per minute of flow.
Like all the other diaphragm pumps from Tapflo this Asceptic Series is constructed with a minimum number of components, making the pumps both reliable and easy to maintain. For the most part the new series is constructed from components used in the company's other membrane pumps. "This makes things easier for our customers and distributors because our existing spare parts and accessories fit the new pump series and do not require any extra storage space," said Håkan Ekstrand, Tapflo's Managing Director. "Nor is any special training needed for installing and using the pumps."
PumPortal introduced the first Tapflo pumps to the US market back in the year 2000. Now more than 10 years later PumPortal has firmly established Tapflo as a leading brand for specialized Air Operated Diaphragm pumps in niche markets. Tapflo's machined plastic pumps are popular in demanding applications where molded plastic pumps simply don't cut it. Tapflo was also one of the first ones to introduce US Pharmacopea (USP) Class VI approved pumps. PumPortal is confident that with these new pumps they will be able to open more doors in the market for specialty Air Operated Diaphragm pumps.
###