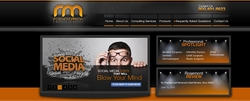 Internet Marketing – Getting the Most Out of Your Website.
San Diego, CA (Vocus) July 14, 2010
Keith Humes, search veteran of over 13 years and CEO of medical and dental website design firm Rosemont Media™, is set to speak at the 6th Annual Facial Cosmetic Surgery 2010 Symposium taking place in Las Vegas from July 14-18. The Multi-Specialty Foundation's Symposium is distinguished from other similar events because it is truly a multi-disciplinary discussion focusing on sharing and cooperation among the best and brightest practitioners within a variety of medical fields, including dermatology, facial plastic surgery, oculoplastic surgery, and plastic surgery, coupled with innovative design firms, practice managers, and business developers.
A leader in plastic surgery marketing, Humes recently spoke at the American Society for Aesthetic Plastic Surgery meeting in Washington DC as part of a four person panel, which provided an overview of advanced search marketing techniques entitled "Internet Marketing – Getting the Most Out of Your Website." The three-hour course included marketing topics such as the use of social media sites like Facebook and Twitter, and the need for online reputation management. As he prepares for the Multi-specialty symposium, Humes says that while he will briefly cover the need for online reputation management he addressed in Washington DC, he plans to expand on the specific benefits of custom content management. "At Rosemont Media™, we provide 100% personalized content for each of our clients. We pride ourselves on the fact that each step of the process, from design, to webpage construction, to content creation, are all done in-house. No outsourcing, no webpage templates, period."
In addition to providing an overview of successful custom content management at the Multi-Specialty Foundation Symposium, Humes says he will speak about the benefits of using social media sites. The title of the session is "The Business of Plastic Surgery: Marketing & Management in 2010," and will take place July 17 at 8:45 am. Humes, along with his fellow panelists, will discuss how to begin using social media sites like Facebook, how to increase sociability, and why doing so can help maximize the overall potential of any practice's online presence.
Whether centering their efforts on plastic surgery or dental marketing campaigns for their clients, Humes says he and the dedicated staff at Rosemont Media™ strive to work for the best of the best in the elective healthcare industry. Because they focus solely on board-certified doctors and surgeons, Humes says marketability is never a concern for Rosemont Media™, as their campaigns initially center on ethical concerns and reputation management, and migrate to further concentration on qualified doctors reaching their patients. "By focusing on the elite class of board-certified surgeons, we can further improve their ability to support the surrounding communities while providing the best care and information available in-office and online." In Las Vegas, Humes says he is looking forward to enhancing that community support as he prepares to speak on July 17th at the Multi-Specialty 2010 Symposium.
###