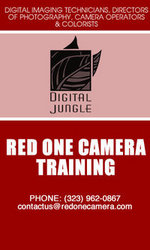 I'm excited to partner with Dennis Ho and Digital Jungle for these courses and look forward to initiating and honing the skills of the next generation of RED professionals.
Hollywood, CA (Vocus) July 15, 2010
Digital Jungle, one of Hollywood's top post-production and digital workflow studios, is teaming with RED ONE workflow tsar, Richard Salazar, for a new slate of RED training classes beginning July 30th and running on a continued basis thereafter.
The RED ONE program is broken into three levels of training consisting of "Levels I, II and III", each of which are comprised of a three-day intensive course load that covers every aspect of RED, from camera operation to HD digital imaging tech support to post production workflow, all in a real-world interactive film production environment.
The workshops are geared toward Camera Assistants, Digital Imaging technicians (DIT), Data Wrangler Roles, Directors of Photography, Editors and Post-Production Supervisors that want to learn more about the art and science of RAW digital cinematography and its applications. The training includes camera tech, post-production, editorial, digital intermediate and color grading and will have frequent guest speakers throughout the workshop. Digital Jungle will have a RED camera on location with the new Mysterium X sensor, which combines low noise with superior charge capacity for dynamic range of 800ASA and color fidelity that allows filmmakers to finally have a no-excuse digital imaging alternative to shooting 35mm film. Additionally, fundamental 3D stereoscopic rigging instruction for the RED, as well as a broad overview of 3D post production workflow will be built into the program in subsequent sessions.
At the end of the workshop, trainees are required to pass an exit examination in order to receive a certificate confirming that they have taken and completed the Digital Jungle RED ONE program in camera operation and post workflow.
"There are very few facilities that have the experience, knowledge and technological capability to host comprehensive training for the RED ONE, and Digital Jungle is at the top of that short list," said Richard Salazar. "I'm excited to partner with Dennis Ho and Digital Jungle for these courses and look forward to initiating and honing the skills of the next generation of RED professionals."
A full description of the RED ONE Training course load along with pricing information is available at http://www.digijungle.com/redone_syllabus.pdf. Interested parties can also visit the facebook page at http://www.facebook.com/pages/Red-One-Camera-Training/142373182443068
ABOUT DIGITAL JUNGLE
Based in the epicenter of Hollywood, Digital Jungle provides the industry's most advanced technologies with an array of 4K, 2K, HD and SD services for the post industry. The 25,000 square foot, full service studio offers Stereoscopic 3D and 4K Digital Intermediate Services, Visual Effects for Feature Films, Image Enhancement & Restoration, Telecine & Color Correction, Editorial, Audio Services, Graphic Design, DVD Authoring, Conversions, Data Transfers, Duplication, and QC Services. For more information please visit:
http://www.digijungle.com
ABOUT RICHARD SALAZAR
Richard Salazar specializes in the development and execution of photographic and creative strategies for the film and TV industry. Richard Salazar also specializes in small format film making utilizing the latest in HDTV and HDV and HD systems. Richard is a trained operator in various camera systems such as the Arriflex Alexa, Panavision Genesis, RED ONE HD Camera, and Vision Research Phantom as well as the SONY CINEALTA and Panasonic VARICAM HD camera systems. Richard recently photographed, or has DIT and has produced several independent feature projects in 2010 on the RED ONE, as photographer on "Relativity" directed by Zach Mann, director/cinematographer on "Ricky & Melinda" and as DIT on "Losing Control", Directed by Valerie Weiss.
Richard's clients include Matthew Productions, Fremantle Media, Film Garden, Warner Brothers, Universal Studios, FOX film studios, Paramount Studios, Discover Channel, Syfy Channel and Walt Disney TV Animation. Special cinematography/video projects for CBS, Warner Brothers "ER", "Thirdwatch", The Groundlings, Coors Corporation and YOUTUBE.
# # #