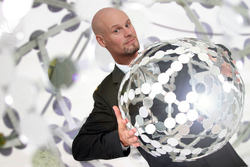 "I never dreamed that so many people just needed someone who is objective and non judgmental to talk with, listen and bounce ideas off of." Diamond says "Some of the comments that people have left on my blog have really touched me."
Las Vegas, NV (PRWEB) July 15, 2010
WHAT: TV's Anxiety and Stress Relieving Personality - Steven Diamond, the founder of StopStressingNow.Com– is now giving private and confidential relationship advice through his new service at AdviceOverThePhone.Com. Business is booming. Hundreds of people have called since the program first began on StopStressingNow.Com in May of this year.
WHEN: Twenty-four hours a day. Seven days a week. Clients can arrange a call back if Diamond is currently speaking with a customer or away.
WHO: StopStressingNow.Com and Web-Designs-Online.com in partnership with Ingenio who is owned by AT&T
WHERE: Log onto StopStressingNow.Com or AdviceOverThePhone.Com
CONTACT: Steven Diamond is available for media interviews. http://www.stopstressingnow.com/
ABOUT:
Steven Diamond is a thought leader, author, and entrepreneur who has also achieved top honors as a professional speaker in a thriving international career that has spanned more than 30 years in which he has toured around the globe. His amazing story is unlike anything you have ever experienced. Steven's unique background not only as a showmen, but as a coach, mentor and life long student of behavioral sciences has developed his powerful ability to address life issues from an integrated and comprehensive level. Today, Steven speaks to groups large and small creating a transformational experience that is evocative and gently amusing. One that explores the full humor and pathos of the human condition.
"Everyone gets down in the dumps at times, or we feel demotivated and sometimes even lose our self confidence. What I do is beyond just inspiration. I teach people real life skills that have changed my life. I have been there and lived through some really tough times. It's that wisdom that I share to help people reconnect to the person they have always felt they were inside. That's when relationships truly flourish." - Steven Diamond
###