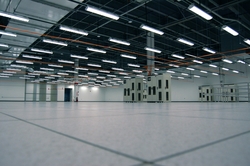 Oak Brook, IL (PRWEB) July 14, 2010
Latisys, a leading provider of colocation, managed hosting, managed services and disaster recovery solutions, today announced a significant expansion of its Chicago-area data center facility in Oak Brook. The expanded facility, Latisys CH2, will now provide customers in the Chicago metro area and surrounding Midwest markets with approximately 136,000 gross square feet of space.
The expanded facility is tied directly to existing fiber carriers in the building, will be monitored 24x7x365 by on-site NOC personnel and systems, and will be operated under SAS70 Type II procedures. The expansion space comes equipped with 32,000 square feet of immediately available, raised floor datacenter space, as well as an initial 5 MW of utility power and 1.2 MW of generator power which will be upgraded in early 2011.
Latisys continues to see consistent and growing demand in the Chicago-area and each of its geographically diverse markets among industry-leading organizations – ranging from Fortune 500 firms, mid-sized organizations and government agencies – for its managed hosting, medium/high density colocation and disaster recovery services.
"Facility expansion at our Chicago-area data center colocation facility isn't just about supporting new customers, but ensuring that existing Latisys customers have the scalability, flexibility and agility they need to grow and thrive," said Kevin Knight, Regional Sales Director, Latisys-Chicago. "Throughout the Chicago area, power and space remain at a premium, which is why more companies are choosing to outsource their IT infrastructure to Latisys."
A number of key economic, business and regional factors are driving customer demand for Latisys' colocation and managed services at the suburban Chicago data center:

Demand for more power and space among Chicago-area organizations whose existing capacity threshold has been reached
Close proximity to downtown Chicago offers organizations in the Central Business District and surrounding areas the lowest latency (as low as sub 1ms) of any suburban data center
Flexible services approach delivers a customized and scalable solution to meet customer needs
Powerful IT Infrastructure Outsourcing solutions for organizations facing tight credit markets and an inability to raise funds for internal facility expansion
Latisys' growing national presence offers Chicago-area organizations the required redundancy and disaster recovery solutions with three additional geographically diverse data center facilities located in Ashburn, VA, Irvine, CA and Denver, CO
Full suite of managed services including network management, managed server hosting, server virtualization, storage, backup, replication and security services
About Latisys
Latisys is a leading provider of colocation, managed hosting, managed services and disaster recovery solutions to medium-sized businesses, enterprise customers and government agencies. With a heritage serving business customers since 1994, and multiple high-density, SAS70 Type II compliant data centers across the United States, Latisys offers scalable outsourced IT infrastructure management solutions that provide customers what they need, when they need it. The firm's new, state-of-the-art Tier III data center campus in Ashburn, Virginia compliments existing facility operations in Chicago, Denver and Irvine, California. As a data center-centric company, Latisys is quickly becoming the hosting and colocation company of choice for companies that demand more from their IT infrastructure partner. All while optimizing clients' return on investment. All while 'delivering more_'. Call 1-866-956-9594 or visit http://www.latisys.com for additional information.
# # #