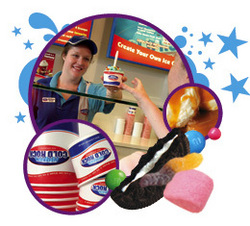 The platform allows us to engage with our customers and communities through an integrated social media strategy
(PRWEB) July 14, 2010
Leading franchise group Franchise Food Company (FFco), the company behind Cold Rock Ice Creamery, Pretzel World and Nutshack has signed on with start-up social network for coupons Myzerr.com to promote their in-store coupons.
The partnership will allow users of the Myzerr website and iPhone app to download coupons from FFco brands.
According to Stan Gordon, CEO of FFco, 'One of the main reasons the Myzerr solution is attractive is that customers can use the iPhone app to find our stores on a map. So someone walking down Glenferrie Road can see that our Cold Rock store is offering a discount coupon and then come in and claim the discount instantly'. As a social network, Myzerr also let's users share coupons with their friends via social media like Facebook or Twitter and customers can also comment on or rate promotions.
Myzerr has developed a range of features for Franchises including reports and tracking for businesses so franchises can get detailed information on redemptions per store. 'The platform allows us to engage with our customers and community groups through an integrated social media strategy as Myzerr is like a one stop shop for managing your Facebook and Twitter page promotions' says Gordon, 'We are excited to be part of this new opportunity'.
It's free for businesses to promote their coupons on Myzerr and the company makes it's money from Myzerr Ads 'sponsored links' not unlike Google Adwords or Facebook Ads.
###