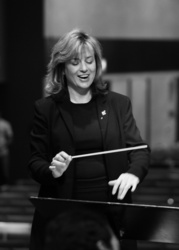 The dramatic history of the Jewish people comes alive through the famous film music in our Cinema Judaica program including Jerry Goldsmith,Danny Pelfrey, Charles Fox and Yuval Ron
Hollywood, CA (PRWEB) July 15, 2010
The rich tradition of Jewish composers' contributions to film history is celebrated at Cinema Judaica, a concert by the Los Angeles Jewish Symphony (LAJS) on Sunday, August 8, 2010, 7:30 pm, under the stars at the Ford Amphitheatre. The orchestra, lauded for its exploration of Jewish culture and led by Artistic Director Noreen Green, pays tribute to Jerry Goldsmith, Elmer Bernstein, Steven Schwartz, Danny Pelfrey, Charles Fox, Yuval Ron and other major composers with performances of their scores from memorable movies whose themes, resonating with Jewish heritage, are as significant today as when the films were made. Guest artists include Yuval Ron himself, percussionist Jamie Papish, and Israeli-born pianist Andy Feldbau, a scholarship recipient of the America-Israel Culture Foundation, which is sponsoring his appearance. For more information, see http://www.lajewishsymphony.com .
The program features music from two exciting Goldsmith works, Masada and QB VII; the expansive score of Bernstein's Ten Commandments Suite; the thrilling music of Schwartz's songs heard in Dreamworks' Prince of Egypt; Pelfrey's Symphonic Suite from Joseph: King of Dreams, another Dreamworks film; Fox's riveting Victory at Entebbe Suite (with pianist Andy Feldbau); and Ron's West Bank Story, with the composer on oud, the exotic Middle Eastern string instrument, and Papish on ethnic percussion. Additional concert highlights include the world premiere of new arrangements from The Chosen and Thoroughly Modern Millie.
"The dramatic and wide-ranging history of the Jewish people comes alive through the film music in our Cinema Judaica program, a perfect fit for the LA Jewish Symphony's mission which includes performing works both familiar and unfamiliar by Jewish composers or with a Jewish theme," says Green. "With our wonderful musicians and soloists at the most intimate outdoor venue in Hollywood, it will be an evening to remember. We've sold out our Ford concerts for the last two years, so we encourage people to get tickets right away."
Jerry Goldsmith (1929 - 2004) was among the most accomplished creators of movie music, and one of his five Emmys for outstanding television music was for Masada (1981), an eight-hour miniseries that chronicled the efforts of nearly 1,000 Jewish men, women and children who held off an entire Roman legion from a mountaintop fortress near the Dead Sea before ultimately committing mass suicide in 73 A.D. The suite incorporates the score's primary themes: martial rhythms of advancing Roman soldiers and the alternately heroic, dance-like and bittersweet music associated with the courageous zealots and their families.
Legendary composer Elmer Bernstein (1922 - 2004) won the highly coveted task of writing and scoring the music for The Ten Commandments, also a complex problem because the composition had to express scripture, history and drama in music. His resulting score is composed of symphonic themes identifying momentous events and significant personages as well as the great mass of people through whose trials and triumphs the story's history moves.
American musical theater lyricist and composer Stephen Schwartz in a career already spanning over four decades has written such hit musicals as Godspell, Pippin and Wicked. Schwartz's score (with Hans Zimmer) for The Prince of Egypt is considered to have played a critical role in the film's commercial success, and it was nominated for a Best Original Score Oscar. One critic wrote, "The soundtrack helps to carve the film's highs and lows and propels the epic story forward. At the same time, the music remains an entertaining stand-alone listen." When You Believe won the Oscar for Best Original Song.
Danny Pelfrey is a two time Emmy Award winner, a six-time BMI Award winning composer and multi-instrumentalist who has performed and recorded with Carole King, Diana Ross, Tower of Power, Bobby Caldwell, Eric Clapton, Smokey Robinson, Luther Vandross and many others. His television composing credits are extensive, and his work has also been featured in many game titles, most notably the Star Trek franchise for Activision as well as the theater piece Cyrano de Bergerac performed at the Thousand Oaks Civic Arts Plaza. Symphonic Suite from Joseph: King of Dreams was recently performed by the Knoxville Symphony under Lucas Richman. Joseph: King of Dreams won the Video Premiere Award for Best Video, the score was nominated for Best Score, and Pelfrey's arrangement of the song "Better Than I" won for Best Arrangement and Production of a Song.
Charles Fox won a Grammy award for his international hit "Killing Me Softly With His Song" first recorded by Roberta Flack. Credits in film and television include acclaimed themes from Love, American Style, The Love Boat, Happy Days, Laverne and Shirley and Wide World of Sports as well as the music for the films Nine to Five, European Vacation and The Gods Must Be Crazy II. Regarding his music for the Warner Brothers film Victory at Entebbe (about the daring Israeli raid that liberated the passengers of a hijacked American plane in Libya) Fox says, "I was very excited to be a part of the film, because I thought there was a chance to fulfill some of my own feelings toward Israel and in particular towards my Jewish heritage. The orchestral suite uses themes originally composed for the film and develops them into a form which evokes the dramatic tensions, the identification with the characters, and the ultimate exhilaration of victory."
World music musician/composer Yuval Ron's West Bank Story Suite from the Academy Award-winning film West Bank Story (2006) is based on the original motion picture soundtrack he composed and orchestrated. The suite interweaves Arabic folkloric motives with East European Klezmer Jewish music. The two "opposing" styles find a union within the unlikely musical tradition of Broadway show tune style, while paying homage to Leonard Bernstein's original West Side Story score. Although the West Bank Story score doesn't quote any of the lines of West Side Story, it does incorporate the jazzy snapping on beats 2 and 4 which became one of the signatures of Bernstein's musical masterpiece. Ron's score incorporates the Oud (Middle Eastern lute), and Middle Eastern percussion along with sounds for a traditional western classical orchestra.
The mission of the Los Angeles Jewish Symphony (LAJS), founded by Artistic Director and Conductor Dr. Noreen Green in 1994, is to perform orchestral works of Jewish composers (both known as well as not commonly recognized); establish opportunities for the presentation of new compositions by Jewish artists; serve as a professional resource for aspiring Jewish and non-Jewish musicians; act as an educational medium for Jewish music and composers; and provide educational opportunities for diverse populations of school age children. Over the last 16 years, Green has brought neglected as well as new and familiar orchestral works to the concert stage. Since its debut performance in 1994, LAJS has served over 60,000 people through 49 full symphony concerts, 54 community events and fund raising concerts and 25 educational concerts. The Symphony has premiered 33 works by Jewish composers and works never before performed in America, as well as world premieres and Israeli premieres in Israel. LAJS has provided aspiring musicians of all ethnicities and backgrounds an opportunity to play with a full orchestra, and more than 12,000 students have participated in LAJS' music education programs. In May 2000, members of the Symphony performed two concerts in Israel with the New Symphony Orchestra of the Samuel Rubin Israel Academy of Music of Tel Aviv University. In recent years, Dr. Green has taken her unique programming and repertoires to South Africa, Canada, and Israel where she served as guest conductor for local orchestras. In September 2008, the Symphony was the featured performing arts group at the historic raising of the Israeli flag in front of the Israeli Consulate's building in Los Angeles.
The Artists
Dr. Noreen Green, LAJS Founder, Artistic Director and Conductor, is also music director at Valley Beth Shalom in Encino, California, a renowned lecturer on Jewish music, and an accomplished educator. She is known world-wide for her knowledge and skill in presenting music with Jewish themes. Green has received public recognition for her outstanding contributions to the multi-cultural musical scene in Los Angeles by Congressman Brad Sherman (August, 2005) and by the Casden Institute for the Study of the Jewish Role in American Life (October, 2005). She has received the "Jewish Cultural Star" award presented by the National Foundation of Jewish Culture at The Jewish Image Awards (October, 2005), the "Golda Meir Award" from The State of Israel Bonds (May 2005), the "Hall of Fame Award" from the National Association of Women Business Owners (March, 2003) and the "Women of Significance Award" from Adat Ari El Sisterhood (April, 2000). She has been a featured speaker for the Los Angeles Philharmonic Upbeat Live series (2001) and conducted at the opening ceremonies of the 2001 Maccabi Games in Philadelphia. Dr. Green has been guest conductor for Jewish Music concerts with the Rubin Academy Orchestra in Tel Aviv (2000), the Johannesburg Philharmonic (2003), the Jerusalem Symphony at the new performing arts center in Herzliyah (2004) and the R'aanana Symphonette (2004). Under her baton, LAJS has performed in concert with Hollywood personalities including Billy Crystal, Tovah Feldshuh, Leonard Nimoy, Randy Newman, Theodore Bikel, Laraine Newman, Valerie Harper, Pat Boone, Lainie Kazan, Fyvush Finkel, Dave Koz, Marvin Hamlisch and others. During her tenure with the LAJS, Green, along with Education Director Ilizabeth Gilbert, has developed education programs initially funded by the New and Innovate Grants division of the Jewish Community Foundation. Several of these programs have gone on to receive funding from the Righteous Persons Foundation, the Maurice Amado Foundation, the City of Los Angeles Cultural Affairs Department, the Leonard and Susan Bay Nimoy Foundation and the Tel Aviv/Los Angeles Partnership. LAJS received a substantial education grant from the National Endowment of the Arts for its Patchwork of Cultures program which uses music to show the cultural bridge between the Sephardic Jewish and Hispanic communities. Green received a Doctor of Musical Arts Degree in Choral Music from the University of Southern California and a Master of Music Degree in Choral Conducting at California State University, Northridge under conductor John Alexander. From 1981 to 1990, she was the conductor of the American Jewish Choral Society. As West Coast Music Director of the David Nowakowsky Foundation from1992 to 1998, Green presented an annual concert series of the Nowakowsky Chorale. She wrote her doctoral treatise on the music of Nowakowsky, and went on to edit many of his works, ten of which have been published by Laurendale. From 1986 to 1992, Green was an Assistant Professor at CSUN and in the summer of 1993, she worked with conductor Murry Sidlin at the Aspen Music School. With his support and encouragement, she developed the concept for and founded the Los Angeles Jewish Symphony.
Israeli pianist and composer Ido ("Andy") Feldbau has been an active figure in musical life, performing concertos with four orchestras (using his own cadenzas), giving festival recitals, playing live broadcasts on WQXR and the Israel Radio, performing in recital halls such as Carnegie Hall, Tel Aviv Museum and Jerusalem Theatre, and serving as accompanist to several choirs and the Tel-Hai International Master Classes for pianists. In recent years, Feldbau won First Prize in the American Protégé International Piano and Strings Competition, various competitions in Israel and Russia as well as excellence scholarships awarded by the America-Israel Culture Foundation, the Hebrew Free Loan Society, Merit Scholarships from The Juilliard School, and full scholarships from the Buchman-Mehta School of Music. Feldbau has participated in master classes under Leslie Howard, Staffan Scheja, Alon Goldstein, Daniel Hoechster and Gilad Mishori. He has composed many pieces for the piano, most of which he has performed and recorded. He has also created pieces for choir and piano, various solo instruments, chamber music, orchestrations and arrangements for classic modern compositions. In addition he has composed and performed various cadenzas to piano concertos of Mozart, Haydn and Rachmaninoff. Feldbau was personal assistant of the Israeli composer Gil Shohat. He is currently pursuing a Master's degree at The Juilliard School, studying with Prof. Julian Martin. In 2008 he received his Bachelor's degree from the Buchman-Mehta School of Music as a student of Prof. Emanuel Krasovsky. Feldbau's participation in this program is supported by an America-Israel Cultural Foundation scholarship.
Yuval Ron, world-music artist, composer, producer, educator and peace activist, works internationally in film, television, dance and theater. Among his many honors, he was invited to perform for the Dalai Lama, for Pir Zia Iniyat Khan (Head of the Sufi International Order), and he has produced albums of Turkish master-musician Omar Faruk Tekbilek. Ron wrote the score for the Oscar-winning live action short film West Bank Story (2006), and in 2004 he received the Los Angeles Treasures Award. He is the recipient of prestigious grants from the National Endowment for the Arts, American Composers Forum, California Council for the Humanities and the Rockefeller Foundation, among others.
Jamie Papish has made a name for himself in the Los Angeles world music scene as a passionate percussionist of ethnic hand drum styles of the Middle East, North Africa and the Balkans specializing in doumbek, riq (Arabic Tambourine), frame drums, cajon, udu drum and Turkish davul. He maintains an active performance and recording schedule as a member of the critically acclaimed Yuval Ron Ensemble, The Stefani Valadez Ensemble, The Nashuva Band, Heyraneh, The Ist-West Ensemble and The Ava Nahas Percussion Ensemble and has recently recorded with the Kronos Quartet. Papish has numerous recording credits including the score for the Academy Award winning West Bank Story, composed by Yuval Ron.
The Venue and Tickets
The Ford Amphitheatre is located at 2580 Cahuenga Blvd. East, Hollywood, CA 90068, just off the 101 Hollywood Freeway across from the Hollywood Bowl and south of Universal Studios. The grounds open two hours before show time for picnicking. The Ford offers a number of dining options: a variety of food and beverages is available on site and box dinners for evening events may be ordered in advance. Patrons are welcome to bring their own food and drink.
The Ford is disabled accessible. Portable wireless listening devices are available upon request. On-site, stacked parking costs $5 per vehicle. Free non-stacked parking serviced by a free shuttle to the Ford is available at the Universal City Metro Station lot at Lankershim Blvd. and Campo de Cahuenga. The shuttle, which cycles every 15-20 minutes, stops in the "kiss and ride" area.
This event is part of the Ford Amphitheatre 2010 Season, a multi-disciplinary arts series produced by the Los Angeles County Arts Commission in cooperation with Los Angeles County-based arts organizations. For a complete season schedule, directions to the theater and parking information, log on to http://www.FordTheatres.org.
Tickets, priced at $36 and $25, and $12 for full-time students with ID and children 12 and under, are available at http://www.FordTheatres.org or 323 461-3673 (for non-visual media 323 GO 1-FORD).
###