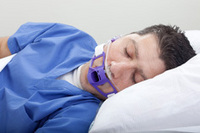 Smart CapnoLine Guardian "..is easy to put on, it stays in place and is comfortable for the patient. It's easy to connect the oxygen through the bloc." Katrina Swartz, R.N., Endoscopy Specialty Coordinator, Winchester Medical Center's Endoscopy Center, VA
Jerusalem/Needham (PRWEB) July 14, 2010
Oridion (SIX Swiss Exchange: ORIDN), creator of the Smart Capnography™ family of algorithm-based solutions (Integrated Pulmonary Index™, SARA™, and Smart Breath Detection Algorithm™) today announced the introduction of the Smart CapnoLine Guardian™, a new airway management system for breath sampling that significantly improves patient safety during upper endoscopic procedures.
The Smart CapnoLine Guardian is the next generation solution of the Smart CapnoBloc™ - the first system to enable continuous CO2 monitoring and oxygen delivery during upper endoscopy procedures. It is a highly efficient and cost effective system, performing three vital functions in one. It provides continuous monitoring of the patient's ventilation (etCO2), delivers oxygen, and simultaneously protects endoscopes from damage. Its unique modular design simplifies clinician work flow and patient safety before, during, and after upper endoscopic and ultrasound procedures, providing optimal reliability in continuously monitoring CO2, the recognized gold-standard indication of ventilatory status.
Gerry Feldman, President of Oridion Capnography Inc., introduced the Smart CapnoLine Guardian as a major development in the monitoring of endoscopic patients. "With this next generation Microstream® technology-based system, we are able to significantly improve oxygen delivery to patients during upper GI procedures, providing optimal performance and reliability of etCO2 values and ventilatory status. As a result, the Guardian is an enabling solution for complying with the Joint Commission's recommendation that ventilation be continuously monitored during conscious sedation."
The importance of this Joint Commission recommendation is underlined by the recent landmark study conducted at the Cleveland Clinic using Microstream capnography, which concluded: "Capnographic monitoring of respiratory activity improves patient safety during procedural sedation for elective ERCP/EUS (upper endoscopies) by reducing the frequency of hypoxemia, severe hypoxemia and apnea". The study further concluded that "…capnographic monitoring functions as an early warning system for hypoxia and may further improve patient safety during gastrointestinal endoscopy."
Click here to view the study.
Utilizing patented sampling technology, the Smart CapnoLine Guardian's specialized cannula delivers continuous etCO2 readings. Its unique design allows for oral and nasal sampling, allows oxygen delivery up to 10L/min without diluting the CO2 sample and accepts a 60French sized dilator. The Smart CapnoLine Guardian's enhanced design greatly reduces the drag on endoscopes during the procedure, protecting them from damage. For denture wearers, a Gum Comfort Pad™ provides a gentle cushion for the patient and a more secure bite block fit for the physician.
Medical professionals have been impressed with the Smart CapnoLine Guardian during its successful limited market release evaluations, reacting very favorably to its ease of use, patient comfort, superior breath sampling, and its ability to increase O2 without needing an O2 mask.
After using the Smart CapnoLine Guardian™, Katrina Swartz, R.N., Endoscopy Specialty Coordinator from the Winchester Medical Center's Endoscopy Center in Winchester, Virginia, said that the Guardian "… is easy to put on, it stays in place and is comfortable for the patient. It's easy to connect the oxygen through the bloc." Ms. Swartz concluded that "… its most important feature, however, is its outstanding results: It gives optimal results in terms of providing reliable respiration rate and end-tidal CO2 values."
The performance of the Smart CapnoLine Guardian was validated in a study by Dr. David Gozal and other physicians from Hadassah University Hospital in Jerusalem. In their study, the researchers concluded that the Smart CapnoLine Guardian "…provides accurate etCO2 sampling during endoscopy, increasing patient safety during these procedures." This study, "Quantitative and Qualitative Assessment of the Oxygen Delivery and etCO2 Sampling during an Upper Endoscopy Procedure with the Oridion Smart CapnoLine Guardian", was presented at the Digestive Disease Week (DDW) in May 2010.
(Click http://download.abstractcentral.com/DDW2010/myddw/M1482.html to read the abstract.)
The new Smart CapnoLine Guardian line was FDA cleared in March 2010.
The Smart CapnoLine Guardian can be used with all Microstream-enabled monitors, including the Capnostream®20 with Smart Capnography. Smart Capnography is a family of algorithm-based solutions developed by Oridion to improve patient safety and clinical workflow. Smart Capnography includes the Integrated Pulmonary Index (IPI) and Smart alarm management technologies (SARA and the Smart Breath Detection Algorithm).
The IPI helps caregivers manage complicated monitoring parameters with a single, simple number. The IPI utilizes real time measures and interactions of four parameters – exhaled carbon dioxide (etCO2), respiration rate, pulse rate, and oxygenation (SpO2) – to provide a single indexed value, enabling clinicians to instantly assess the patient's respiratory status.
SARA (Smart Alarm Respiratory Analysis) is an alarm management algorithm that, together with the Smart Breath Detection Algorithm, recognizes and reduces clinically insignificant alarms while accurately reflecting the patient's condition and preserving caregiver alarm vigilance.
For further Oridion information please contact:
Alan Adler, Chairman and Chief Executive Officer
Walter Tabachnik, Chief Financial Officer
Elena Gerberg, Investor Relations
e-mail: info@oridion.com
website: http://www.oridion.com
phone: +972 2 589 9159
address: Oridion Systems Ltd., P.O. Box 45025, 91450 Jerusalem, Israel
About Oridion
Oridion Systems Ltd. (http://www.oridion.com) is a global medical device company specializing in patient safety monitoring. The Company operates through wholly owned subsidiaries in the United States and Israel.
Oridion develops proprietary medical devices and patient interfaces, based on its patented Microstream® technologies, for the enhancement of patient safety through the monitoring of the carbon dioxide (CO2) in a patient's breath. These products provide effective, proven airway management and are used in various clinical environments, including procedural sedation, pain management, critical care units, post-anesthesia care units, emergency medical services, transport, alternate care and other settings where patients' ventilation may be compromised and at risk.
Certain statements made herein that are not historical are forward-looking. The words "estimate" "project" "intend" "expect" "believe" and similar expressions are intended to identify forward-looking statements. These forward-looking statements involve known and unknown risks and uncertainties. Many factors could cause the actual results, performance or achievements of the Company to be materially different from any future results, performance or achievements that may be expressed or implied by such forward-looking statements, including, among others, our ability to maintain profits, the market demands for our Capnography products, our ability to focus our team on the Capnography business, changes in general economic and business conditions, inability to maintain market acceptance to the Company's products, inability to timely develop and introduce new technologies, products and applications, rapid changes in the market for the Company's products, loss of market share and pressure on prices resulting from competition, introduction of competing products by other companies, inability to manage growth and expansion, loss of key OEM partners, inability to attract and retain qualified personnel, inability to protect the Company's proprietary technology. The Company does not assure any obligation to update the forward-looking information contained in this press release.
###