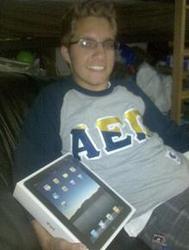 I really like the iPad,
Lexington, KY (Vocus) July 15, 2010
Textbook giant, eCampus.com, showed its gratitude to its loyal customers by giving away three 16GB iPads following the spring semester. To be eligible for the giveaway, a student sold their used textbooks to eCampus.com or became a member of the eCampus.com Facebook Fanpage between April 15th and May 30th. The winners were chosen randomly.
eCampus.com, America's full-service textbook superstore is proud to congratulate Stephen Graber of Drexel University, Whitney Mitchell of Utah State and Jessica Hall of North Florida Community College. Each student was given a 16GB iPad along with other eCampus.com merchandise. "I really like the iPad, " said Jessica "The iPad is much more convenient than a computer. It should really help lighten the load in my backpack too."
"Giving away iPad's to three students is a way for eCampus.com to show our customers that we appreciate their business," said Matt Montgomery, President and CEO of eCampus.com. "With their new iPads, these lucky students will be able to save even more money by getting their textbooks from our extensive selection of eTextbooks."
"Thanks so much for my new iPad," said Steven. "All of my friends are super jealous. I can watch videos, share pictures, listen to music, and surf the web. I never thought that a company like eCampus.com would care enough to give this away. They definitely have my business for life."
eCampus.com provides an easy and fast way for students to sell their used textbooks through a simple 3 step process. Students enter an ISBN number, get a quote, and print a shipping label all at no cost to the student. Once the book is received and processed, students are issued payment through one of their payment methods: check, electronic funds transfer, or store credit with an extra 20 percent.
According to Matt Taylor, director of Internet Marketing at eCampus.com, "After seeing such a large response from our iPad giveaway we have recognized this as a great way to connect to our customers. Stay tuned as we are planning another big giveaway for the back-to-school season"
About eCampus.com:
Since its founding in July of 1999, eCampus.com has grown into a major online retailer providing cheap textbooks for college and high school students. eCampus.com's stated mission is to provide the easiest, fastest, and cheapest way for college and university students to rent textbooks, buy textbooks and sell textbooks. eCampus.com believes the Internet buying experience should be fun and that shopping for textbooks should be as fast and convenient as possible. The company makes a personal commitment to every customer that eCampus.com will be the best source for everything they need.
###