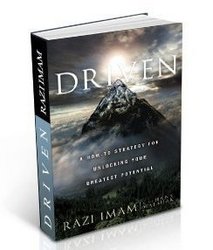 To achieve our personal best, we each need to tap into that extraordinary human motivation to do something great – what Razi Imam calls Junoon. A must read! Keith Ferrazzi - Best Selling Author of Never Eat Alone
Pittsburgh, PA (PRWEB) July 15, 2010
Razi Imam, founder of Landslide Technologies and 113 Industries and winner of Carnegie Science 2010 Startup Entrepreneur Award, has launched his book Driven – A How-to Strategy for Unlocking Your Greatest Potential. If you have an unfulfilled dream, big or small, and have been wondering how to go about realizing it, this book is for you.
The book is a must-read as we follow Razi from the deserts of Kuwait to the suburbs of America as he discovers the ancient Arabic/Persian concept called Junoon, the inner-energy that empowers and motivates ordinary human beings to fulfill their life dreams and in the process, forever change the world.
In Driven, (published by John Wiley & Sons, July 13th, 2010, ISBN # 978-0-470-59933-4) Razi reveals the five key elements of Junoon and how they interact and help you get into a hypnotic state of obsession to reach the heights of personal achievement.
The book provides examples of how throughout history ordinary people – a patent office clerk, a lawyer, an activist, a mountain climber, a nun –Albert Einstein, Gandhi, Nelson Mandela, Greg Mortenson, Mother Theresa - distinguished themselves by accessing and channeling their Junoons and moved humanity forward making the world a better place.
By providing a clear understanding of Junoon and how to tap this mysterious inner force in all of us, the book aims to empower all its readers with the how-to strategy to reach their maximum potential. Written as a unique combination of autobiography and empowerment literature, the book is engaging, thought-provoking and suspenseful.
Driven is available for sale online on Amazon.com, and Barnes & Noble, and in book stores. Also visit http://www.DrivenNation.com and download a free chapter.
###