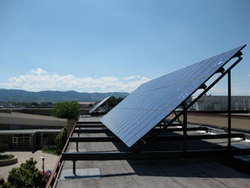 Projects like these are a critical element of our ongoing growth as a company. This year Bella Energy slated to install over two Megawatts of solar energy systems, which is twice the business we did last year."
Louisville, CO (PRWEB) July 16, 2010
Colorado State University's recently completed solar energy system provides clean energy for the campus and shade for students, faculty and visitors parking at the Lake Street Parking Garage. The 132.5 Kilowatt solar electric system is the fourth project between Colorado State University and local solar energy provider, Bella Energy.
"Colorado State University has been committed to energy conservation on campus for many, many years," said Carol Dollard, energy engineer for Colorado State University. "This solar project is one of the many tools in our toolbox and it's an important piece of the joint efforts with the City and Colorado State to make the downtown area - including the main CSU campus - a net zero-energy district."
"Bella Energy is extremely proud of our work with Colorado State University," said Jim Welch, CEO of Bella Energy. "The company was founded in Fort Collins so it is always nice to do work in our hometown. Projects like these are a critical element of our ongoing growth as a company. This year Bella Energy slated to install over two Megawatts of solar energy systems, which is twice the business we did last year."
About Bella Energy - The people of Bella Energy have been working to provide Colorado communities with renewable energy since 1982. Specializing in mid to large scale solar electric systems, Bella Energy is one of Colorado's largest solar energy companies. Our mission is to provide the solar energy systems that will empower our future, help businesses grow, families succeed and communities thrive. Learn more at http://www.bellaenergy.com.
# # #