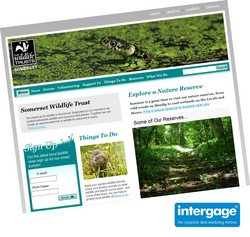 The site is already achieving great results as well as looking as stunning as the reserves that it promotes.
(PRWeb UK) July 15, 2010
Somerset Wildlife Trust has this month launched a new website designed to help visitors plan visits to reserves and learn more about the work that it does protecting wildlife and preserving wild places.
Somerset Wildlife Trust is the county's leading environmental voluntary body, with around 20,900 members and it owns or manages around 80 nature reserves across the county. The Trust website is a key tool in promoting local events, volunteering opportunities and reserves and the recent relaunch has focused on increasing the efficiency with which it achieves these objectives.
Somerset Wildlife Trust worked with digital marketing agency Intergage to develop its new website having been impressed with the agency's previous work on the Dorset Wildife Trust website. The new Somerset Wildlife Trust website includes stunning photos and movies of the Trust's top ten reserves and allows visitors to plan their visit with additional items such as Google maps, information on nearby events, videos and photos of the reserves.
Somerset Wildlife Trust PR and Communications Manager Beth Jerrett said: "Our nature reserves provide safe homes for some of Somerset's most valued wildlife but they are also great places for families to explore and enjoy our county's unique landscape and wildlife.
"People can keep up-to-date with all the latest local wildlife news by signing up for our free e-bulletin including places to visit, wildlife to see and local events."
Paul Sullivan, Business Development Manager at Intergage commented on the project: 'The great work that the Trust does on a daily basis focuses on getting people involved and helping to preserve the natural beauty of our country. When designing the website this was at the very forefront of our mind. The site is already achieving great results as well as looking as stunning as the reserves that it promotes. Everyone at Intergage has loved working on this project and looks forward to the relationship developing in the coming years.'
The new Somerset Wildlife Trust website is available at: http://www.somersetwildlife.org
Images attached: New Somerset Wildlife Trust website screenshot
Information for Editors:
http://www.intergage.co.uk
http://www.twitter.com/intergage
Intergage Ltd (Dorset & Head Office)
Unit 8, Holes Bay Park
Sterte Avenue West
Poole
Dorset BH15 2AA
UK
Tel: 0845 456 1022
Tel: +44 (0)1202 684009
Fax: +44 (0)845 456 0722
Intergage Ltd (Hampshire Office)
3a Westlinks
Tollgate
Chandlers Ford
Hampshire SO53 3TG
UK
Tel: 0845 456 1022
Tel: +44 (0)23 8064 7005
Fax: +44 (0)845 456 0722
Intergage Ltd is the complete Web marketing partner, a leading UK digital marketing agency that continues to expand and recruit the brightest staff.
All Intergage services have a clear focus on providing you with a return on investment from your Web marketing.
Intergage Web marketing services include:

designing and building websites that enable clients to manage their own content using the unique Intergage Content Management System
planning and managing all your Search Engine Optimisation, Pay-Per-Click advertising and Web marketing needs to ensure your site receives and successfully converts a steady stream of customer enquiries
comprehensive Web marketing training to empower you and enable you to manage SEO, PPC and the Intergage Content Management System.
Intergage is also involved with the selling of third party products and services such as:

Sage accountancy software
ProspectVision – software which enables you to identify people that have visited your website and qualify them as cool, warm or hot prospects
online video streaming
digital PR, social networking business consultancy.
Intergage is committed to a long-term relationship with each and every client and is constantly seeking ways to improve your website results.
Intergage boasts more than 350 clients. Having started the business five years ago, Directors Paul and Gareth Tansey are proud to have retained at least 95 per cent of clients year on year.
For more information about Intergage, any of the services it provides or just to have a friendly chat with a team member, please visit http://www.intergage.co.uk or contact Richard Watts on 023 8064 7005, rwatts(at)intergage(dot)co(dot)uk
Somerset Wildlife Trust is the county's leading environmental voluntary body, with more than 20,900 members.
The charity owns and/or manages around 80 nature reserves all over the county. The website fully features the top ten nature reserves for visitors this summer, with more to be added. For information about other reserves download the Trust's Nature Reserves Guide which includes what to see and how to get there.
Money raised is spent to restore, recreate and reconnect our damaged countryside by creating living landscapes for wildlife and people. We help wildlife adapt to climate change, encourage sustainable living, fight to save sites where wildlife is threatened by monitoring development and inspire people to create more green space bringing environmental, social and economic benefits.
The trust is one of 47 in the UK. Together, they make up the Wildlife Trusts Partnership.
# # #