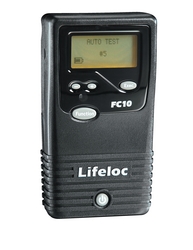 "As a law enforcement officer and an expert in DUI prevention, I firmly stand behind this product and thank Lifeloc for doing its part to prevent impaired driving nationwide." - Jerry Hara, operations director for Safe Ride Solutions
Denver, CO (PRWEB) July 15, 2010
Lifeloc Technologies is pleased to announce the release and immediate availability of its next generation FC Series of professional portable breathalyzer units for law enforcement and corrections.
"The FC Series are engineered for the rigorous demands of police use," said Kelly Silverman, Lifeloc's law enforcement product manager. "The new features make our units more powerful and robust than ever before. Law enforcement agencies helped us design the improvements and we were happy to be able to add the new features they requested."
New features like the extended operating temperature range up to 130 degrees Fahrenheit, the widest in the industry, allow the FC Series to perform under extreme summer temperature conditions at the roadside in states like Arizona. The idea to include rapid passive testing, which is the ability to sample and measure alcohol content in open drink containers, without special attachments, came directly from officers who regularly check for alcohol at outdoor events.
Highlights of the new FC Series professional breathalyzer units include the following performance features:

Full size, one inch platinum fuel cell which gives the units the most reliable and longest life in the industry.
Double pump sampling for more accurate passive testing than other units on the market without the need for special attachments.
The fastest test and test recovery times for officer safety and for rapid testing of multiple subjects.
Advanced data management solutions including keyboard, computer interface and printing options.
For more than 25 years Lifeloc Technologies, Inc. has served the law enforcement community as a leading global designer and manufacturer of professional portable breath alcohol testers commonly known as PBTs. More than 35 countries currently utilize Lifeloc's breath alcohol testing equipment for law enforcement, workplace, education and corrections testing. Lifeloc products, proudly manufactured and serviced in the USA, are recognized worldwide for their ease-of-use, accuracy and reliability.
"After extensive testing, I can say your breath alcohol tester is the best I have seen in the market," said Jerry Hara, operations director for Safe Ride Solutions. "The device's readings were accurate test after test. As a law enforcement officer and an expert in DUI prevention, I firmly stand behind this product and thank Lifeloc for doing its part to prevent impaired driving nationwide."
In addition to the new and improved features, Lifeloc provides excellent customer service and is known for being fast, friendly, professional and affordable. Any necessary repairs to the FC Series units will be completed in less than five working days for up to five units, or it's free.
To learn more about Lifeloc and the FC Series of professional breathalyzers, please visit http://www.lifeloc.com or call 1-800-722-4872.
###