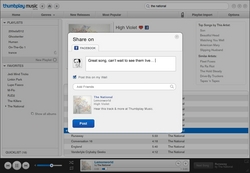 New York, NY (PRWEB) July 14, 2010
Thumbplay®, the leading provider of mobile entertainment in the U.S., has launched a feature that allows users to share music on Facebook® with the latest upgrade of the Thumbplay® Music™ (http://www.thumbplay.com) desktop application. Compatible with both Mac OS X and Windows, the new release is built on Adobe® AIR™ technology and includes:

SHARE MUSIC – Stream songs live on Facebook. Select "Share" by right-clicking on any of the millions of songs within Thumbplay Music's desktop app. Share music with specific friends or with everyone in your Facebook network – also coming soon for Twitter™;
iTUNES® AUTO-SYNC – Thumbplay Music now offers new users the ability to automatically import their iTunes playlists upon signing in and it smart-detects users' highest rated and most frequently played artists for import;
MORE "PLAYLIST GENIE" MAGIC – Thumbplay Music's critically acclaimed Genie feature now struts its stuff even more by automatically scanning the iTunes libraries of new Thumbplay Music users. Once Genie has identified a user's most-played/highest-ranked song within iTunes, it generates a customized playlist from that song, ensuring that new users hit the ground running with a playlist they'll love.
Current Thumbplay Music subscribers are automatically prompted to update their desktop application to Version 2.0.8 and there is no interruption in service.
In addition to PCs/Macs, Thumbplay Music is the only cloud-based, on-demand music service available across all three major smartphone platforms in the U.S. — iPhone®, Android™ and BlackBerry® — making it one of the most widely available cloud-based music service available in the U.S.*
Thumbplay Music has nearly 9 million tracks under license from all major labels and more than 35,000 independent labels. Thumbplay Music is a next generation music service, built by experts in mobile content delivery to serve the rapidly growing market of U.S. smartphone users which is forecasted to grow to 160 million people by 2013.**
Thumbplay Music includes its own in-app media player and boasts several compelling features, including:
Unlimited, on-demand access to any artist or album; choose from millions of songs
Build a personal music collection with Favorites and effortless Playlist creation; auto-sync between smartphone and PC/Mac
Online and offline access: No connection? No problem! Listen to music on the subway or in-flight. Available anytime, anywhere. (Offline access currently only available on BlackBerry devices; coming soon for Android and iPhone.)
Genie for music discovery: Instantly generate customized recommendations from songs
Search: Find music by artist, song, album or genre; includes free previews of all songs
Import existing iTunes® playlists within Thumbplay Music's companion desktop app. With a few clicks, recreate iTunes playlists and have them available on smartphone and PC/Mac.
Free, "no strings attached" three-day trial; subscriptions are then available for $9.99/month.
Thumbplay, which enjoys sustained profitability, has built an award-winning service centered on delivering millions of pieces of mobile content to 95 percent of U.S. devices among every major carrier. Thumbplay is leveraging its existing network of more than 8,000 distribution partners to promote Thumbplay Music. Click on the following link to watch a video demo of the app running on all platforms: http://bit.ly/b27GTY.
* NPD's wireless market research of smartphone unit sales to consumers: As of the first quarter of 2010, RIM (BlackBerry), Google (Android) and Apple (iPhone) collectively address 85% of smartphone users in the U.S.
** Yankee Group (2009)
About Thumbplay:
Thumbplay, Inc. is the leading mobile entertainment provider in the U.S. Thumbplay Music, the company's cloud-based, streaming music service for smartphones and PCs/Macs, was launched in January 2010 with more than 8 million songs under license. Thumbplay.com features licensed music, video and games from some of the world's largest entertainment companies, including: EMI, Sony Music Entertainment, Universal Music Group and Warner Music Group, as well as several independent labels and artists and video game companies. Headquartered in New York City, Thumbplay was founded in September 2004. Investors include Bain Capital Ventures, SoftBank Capital, i-Hatch Ventures, Redwood Partners, New Enterprise Associates, Meritech, Brookside Capital Partners and Cross Creek Capital. More information can be found at http://www.thumbplay.com or at m.thumbplay.com from a mobile phone.
For a complete list of iPhone, Android and BlackBerry smartphones supported by Thumbplay: http://www.thumbplay.com/devices.
All trademarks property of their respective owners. No partnerships implied.
###