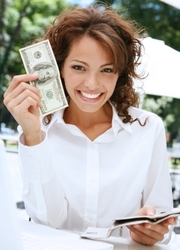 Los Angeles, CA (Vocus) July 15, 2010
Pay1Day is a direct lender of payday loans that has seen an increase of demand in such loans as the result of current economic situation in America. It seems that job losses continue to rise, and despite push and pressure to pass the new financial reform bill analysts are not predicting a fast recovery. But regardless of how dismal our economic crisis may currently seem, it has never been an American tradition to "back down" or "give up", as many families are demonstrating while fighting to keep their finances afloat. Some recent figures from the Federal Reserve state that consumer debt is up, but interestingly enough one of the only forms of consumer credit that have seen an increase in the last five months is "non-revolving" credit, such as fast payday loans.
These types of "non-revolving" credit which include student loans, auto loans, and payday or cash advance loans have increased a staggering $9.4 billion in April, which could also be described as a 7.1% annual growth rate. These figures represent a growing need, amidst this struggling economic backdrop, for consumers to access short term credit to either assist them with a purchase, as in the case of auto finance or even at the dentist's office, or to help make ends meet in between paychecks as in the case of payday lending. Unfortunately for those Americans without access to credit elsewhere, there are many states that have adapted legislation and regulations against credit such as payday lending, and without addressing actual "need" for short-term credit, nor attempting to replace the already limited options for credit in the states of which payday lending has been banned.
Recent studies have shown that states which have banned payday lending have actually led to more consumer complaints against creditors, and eliminates jobs in those states in the subsequent years. Unfortunately it seems that this same tactic may soon be applied beyond specific state borders if a new financial protection bill is passed. The bill attempts to oversee and regulate nearly all consumer finance, large and small, regardless of their impact on the current crisis. In fact, the firms responsible for the subprime mortgage crash are not even being dealt with at this time, just the few consumer credit options American's have left.
We can only hope that consumer demand will speak loud enough to keep some options alive. After all, with most of these types of credit the borrower is required to have a bank account and a job in order to be approved, so the borrower is an informed and responsible consumer with the means to pay back the loan promptly. Also, a payday loans lender by law must fully disclose all terms of the loan clearly at the time of the loan.
If the demand for credit exists and is currently increasing, we should perhaps begin to address and regulate any existing issues rather than eliminate more jobs. Over-regulating consumer credit options has only traditionally harmed our economy.
# # #