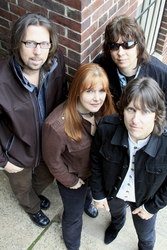 "Bursting with terrific songs." -USA Today
New York, NY (PRWEB) July 20, 2010
The Grip Weeds are a critically acclaimed Psychedelic Rock /Power Pop quartet consisting of brothers Kurt and Rick Reil (on drums and guitar respectively), Kristin Pinell (guitar) and Michael Kelly (basses) and their fifth studio album: Strange Change Machine, is a double CD/LP is a 24-song tour de force that sees the band perfecting their classic sound while also diving into uncharted musical territory.
While the debate regarding the validity of the double album continues, the format has allowed the Grip Weeds to deliver the boldest recording of their career. Strange Change Machine was written and recorded while the band was ensconced in reissue projects (2007's reworking of their debut House Of Vibes Revisited, and the 2008 Little Steven Van Zandt-sponsored compilation Infinite Soul: The Best Of The Grip Weeds) and outside studio production jobs (Singer/Drummer Kurt Reil recorded three albums with the legendary Smithereens, as well as three solo projects by Smithereens lead singer Pat Dinizio, among his other studio work).
Restoring belief in guitar rock, guitarists Kristin Pinell and Rick Reil turn in career-defining performances, while drummer Kurt Reil's controlled chaos is the perfect foil for Michael Kelly's aggressive yet melodic bass work. The other major weapon in The Grip Weeds utility belt is their vocal harmonies. Whether the band is belting out intergalactic rock ('Speed Of Life'), a lilting west coast groove ('Be Here Now') or a folk ballad that fuses the Peter Green and Lindsey Buckingham eras of Fleetwood Mac ('Mistress Forest'), the vocal harmonies add an emotional depth to the already warm tones and catchy hooks. Whether it's the brutal Garage Rock of 'Don't You Believe It', the Manchester Beat tale of a bridge jumper 'Mr. X', or acoustic guitar/flute instrumental 'Love In Transition', the band deftly jumps from style to style without losing their identity or giving the listener whiplash. The Grip Weeds have also reinvented the Todd Rundgren classic 'Hello It's Me'. While the original is a much-loved 1970s classic, The Grip Weeds replace the song's slicker elements with Nuggets-style grit.
The band is offering an 8 song free download from the new album exclusively at their website.
Two songs being readied for Triple A Radio on July 17th: "Speed of Life" and "Be Here Now" are already charting, and both songs were featured on Philadelphia's WXPN's "My Morning Download" show on July 12.
Meanwhile, The Grip Weeds lead the D.I.Y./indie rebellion on Strange Change Machine with every inch of this album- from the writing and performing down to the recording, engineering and artwork - created by The Grip Weeds and the Grip Weeds alone. With Strange Change Machine, The Grip Weeds have aimed their vision for rock and roll beyond the reach of the telescopes, so grab hold and enjoy the ride.
Qualified members of the press wishing to review STRANGE CHANGE MACHINE may request a complimentary download code and/or interviews with The Grip Weeds through Kathryn Musilek @ Shark Party Media: 347.712.2024.
DISC ONE
1. SPEED OF LIFE (3:51)
2. CLOSE TO THE SUN (4:26)
3. DON'T YOU BELIEVE IT (3:11)
4. BE HERE NOW (3:16)
5. YOU'RE NOT WALKING AWAY (4:01)
6. THING OF BEAUTY (4:13)
7. SUN SHOWER (3:54)
8. STRANGE CHANGE MACHINE (2:39)
9. TWISTER (1:54)
10. SUN RA GA (PT. ONE) (1:16)
11. WHAT CAN I DO (3:58)
12. GREEN ROOM INTERLUDE (:47)
13. MISTRESS FOREST (4:13)
DISC TWO
1. COMING AND GOING (4:19)
2. THE LAW (4:43)
3. HELLO IT'S ME (3:41)
4. TRUTH IS (HARD TO TAKE) (3:03)
5. NOTHING'S EVER GONNA BE THE SAME (4:31)
6. HOLD OUT FOR TOMORROW (3:51)
7. LONG WAY (TO COME AROUND) (3:29)
8. LOVE IN TRANSITION (4:01)
9. USED TO PLAY (3:47)
10. SUN RA GA (PT. TWO) (2:02)
11. MR. X (3:44)
PRODUCED AND ARRANGED BY THE GRIP WEEDS
Kurt Reil: Vocals, Drums, Percussion, Guitars, Keyboards
Rick Reil: Vocals, Guitars, Keyboards, Percussion
Kristin Pinell: Guitars, Vocals, Flute
Michael Kelly (MK): 4, 5 and 12 String Basses, Vocals
All songs written by Rick Reil and Kurt Reil, except "You're Not Walking Away", "What Can I Do", "Coming And Going", "The Law" and "Mr. X" co-written by Ivy Vale, "Mistress Forest" by Kristin Pinell and "Sun Ra Ga (Pt. One and Two)" by Reil/ Reil/ Pinell/ Kelly. "Hello It's Me" written by Todd Rundgren (Screen Gems- EMI Music). All songs BMI.
Engineered and Mixed by Kurt and Rick Reil (The Bicker Brothers)
Recorded at The House Of Vibes, Highland Park, NJ (http://www.houseofvibes.com). Additional recording at HOV Studio North, Saranac Lake, NY and House Of Rock Opera, NYC.
Mastered by Alex Saltz at APS Mastering (http://www.apsmastering.com)
All songs ©2010 The Grip Weeds
Photos by Nancy Heyman, Lou Pirozzoli, Ivy Vale and Matt Carlin
Graphic Design by Kurt Reil, with assistance from Melissa Davis
# # #