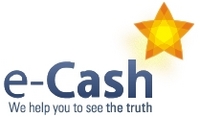 We help you to see the truth!
Mesquite, TX (PRWEB) July 16, 2010
If a company is not in the list the user can add it. It is easy thanks to the intuitive clear user interface. Thus, any housewife dissatisfied with the work of the bank where she has an account can hurt its reputation.
However, don't have illusions, before publishing the reports the e-Cash.org administration thoroughly controls them, negative reports in particular. The company works hard to correspond to the slogan of its website: «We help you to see the truth!».
All users' reports published at the e-Cash.org website shall be reasonable and containing detailed description of the situation or a conflict, otherwise, they will not be published at the website.
According to Mr. Muller, the CEO of e-Cash.org, his personal experience encouraged him to create this project after several deceits by various companies and no possibility to tell people about them. Mr. Muller is convinced that the distinctive aspect of this project is its independence, objectivity and incorruptibility. Rating at e-Cahs.org web site cannot be bought as a company's rating is formed by multiply reports of various users.
In fact, the information provided at e-Cash web site can be useful to many users, and it can prevent mistakes when choosing a company for further work.
###