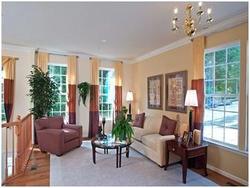 The numerous amenities of the Beechtree community, its inherent natural surroundings, and close proximity to important destinations provide an ideal setting for people and families that live and work in and around Baltimore
(PRWEB) July 15, 2010
Award-winning Baltimore homebuilders, Ryland Homes, announces the grand opening of its newest residential development, The Trails at Beechtree. As one of this season's highly anticipated events, the inauguration of Beechtree signals the successful transformation of an area landmark into one of the most luxurious suburban Harford County communities.
With five distinct neighborhoods comprised of single-family homes, townhomes and villa homes, The Trails at Beechtree by Baltimore homebuilders, Ryland Homes, features a collection of luxury home designs and spacious sites surrounded by an extensive network of ponds, trails and mature landscape. The master-planned community, which sits on the grounds of the once-famed Beechtree Golf Club, preserves the existing clubhouse and stone patio.
Located in northeast suburban Aberdeen, MD, The Trails at Beechtree provides easy access to APG, and is conveniently situated near shopping, dining, entertainment, and schools.
In addition, Beechtree residents have access to a wealth of outdoor recreation and leisure activities, as well as a proposed pool, fitness center, tot lot, walking trails, tennis courts, basketball court, game room, and library.
"The numerous amenities of the Beechtree community, its inherent natural surroundings, and close proximity to important destinations provide an ideal setting for people and families that live and work in and around Baltimore," says the Vice President of Sales and Marketing for Ryland Homes' Baltimore homebuilders division.
Single-family homes, townhomes and villas at The Trails at Beechtree will be unveiled on Saturday, July 31st. Hurry in for pre-construction pricing and incentives!
About Ryland Homes
Headquartered in Southern California, Ryland is one of the nation's largest homebuilders and a leading mortgage-finance company. Since its founding in 1967, Ryland has built more than 285,000 homes and financed more than 235,000 mortgages. Ryland currently operates in 15 states and 19 homebuilding divisions across the country and is listed on the New York Stock Exchange under the symbol "RYL." For more information, please visit http://www.ryland.com.
# # #