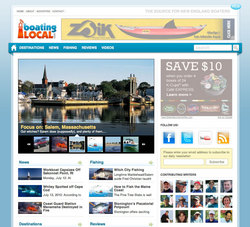 If a new launch ramp is being built, or a new marina or restaurant opens, we'll update the site as soon as we hear about it.
Mattapoisett, MA (PRWEB) July 15, 2010
Aucoot Media Inc. of Mattapoisett, Massachusetts, announces the launch of BoatingLocal.com, a website that's poised to become the definitive source of news, information, and entertainment for New England boaters. The site is packed with articles on destinations and fishing, great photos, news, videos and boat and gear reviews, with fresh content being posted every day. Boaters throughout the region, no matter what their background or level of experience, will find the site a valuable source of information when planning a trip or simply when they want to find out what's happening in their local waters.
"A tremendous amount of time and effort has gone into building the site, but it's just the start," says BoatingLocal co-founder and editor Tom Richardson. "We've had phenomenal support from our team of writers and photographers. The site wouldn't have happened without their outstanding content." Richardson was also quick to credit website developer and advisor fuelmedia, inc., a company that's built and launched several large and successful sites.
To create BoatingLocal, Richardson, the former editor of Northeast Boating magazine, and co-founder Dave Dauer, former head of operations and creative director of Northeast Boating, assembled a team of award-winning boating writers and photographers. They include Ken Textor, Kim Kavin, Barry Gibson, Joe Devenney, Caryn B. Davis, Cory Silken, Thaddeus B. Kubis, Tom Croke, Malerie Yolen Cohen, Gaelen Adam, Joe Myerson, Rick Eggleston, Dan Mathers, Betsy Frawley Haggerty, Tom Schlichter, Scott Goodwin, Holly Parker and Annie Sherman. "These professionals know boating inside and out," says Richardson. "Their work has appeared in such respected publications as Boating, Chesapeake Bay, Soundings, Sail, Salt Water Sportsman, Cruising World, Motorboating, Sport Fishing, Power & Motoryacht and Passagemaker. Our audience can trust them to deliver accurate, relevant information."
Richardson points out that BoatingLocal is geared toward all boaters, including sailors, fishermen, kayakers, cruisers and anyone who enjoys the water. "We saw the need for a fun, informative website that New England boaters of all stripes could go for information that's highly detailed, current and relevant to their boating needs and home waters."
BoatingLocal's growing archive of destinations is one of the site's most valuable assets. Each destination "package" provides all the information boaters need when planning a trip to a particular port, including tips on navigation, fishing hot spots and the best places to fuel up, dock or grab a mooring. Also provided are nautical charts showing the location of local anchorages and launch ramps, and zoomable satellite maps that allow viewers to plan driving directions and zero in on specific geographic features. Other destination highlights include video tours, information on local marinas, harbormasters, restaurants, hotels, shops and interesting things to do and see while in port. Convenient hyperlinks are provided for every website. "The really great thing about the 'Destinations' section is that we can add or remove information as it changes," says Richardson. "If a new launch ramp is being built, or a new marina or restaurant opens, we'll update the site as soon as we hear about it."
Another notable feature is the "News" section, where boaters can get details on important events and issues affecting their boating experience. "Whether it's news of a channel dredging or an potential increase in gasoline ethanol levels, we're going to let boaters know about it as soon as it happens," says Richardson.
The site's "Fishing" section should also prove popular. It includes articles, photos and videos on how and where to catch New England's many game and food fish. From knot tying to bait rigging to interviews with local experts, anglers will find it here. Best of all, visitors will get the inside scoop when a hot bite is happening along the coast.
BoatingLocal also issues announcements and previews of the latest boats, electronics and gear as these products are introduced. Short reviews of books and videos specific to New England are also covered.
BoatingLocal uses Twitter, Facebook, YouTube, email and RSS feeds to alert boaters of all recently posted articles, videos and photos.
"We're confident that once people visit BoatingLocal and see its many features, they'll recognize its value and keep coming back to see what's new. Ultimately, we would like our audience of boaters to contribute stories, videos and photos, and to keep us updated on news and events in their local waters. You couldn't ask for a better source of local information!"
For more information on BoatingLocal and Aucoot Media, contact Tom Richardson (tom@boatinglocal.com) or Dave Dauer (dave@boatinglocal.com) at 774-377-9190.
###