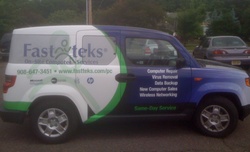 ...We wanted a place to showcase some amazing new technology that integrates entertainment and computing environments in the home.
BERNARDSVILLE, NJ (PRWEB) July 19, 2010
As part of its growing computer repair and services operation, Fast-teks of Northern Somerset and Morris County has opened an office in Bernardsville and has put into service its first Fast-teks branded fleet vehicle.
The Bernardsville office, located at 35 Olcott Square (2nd floor), will be used as a central office by Fast-teks technicians to service customers in the region, including Warren, Basking Ridge, Bedminster, Chester and Randolph. The office will be available for clients via appointment only by calling 908-647-3451.The new Fast-teks vehicle will be used to provide on-site computer services at homes and small businesses in the region. Watch for it on a street near you!
"Our computer repair services are site-based, so our technicians come to you," said Fast-teks franchise owner Harold Grossnickle. "However, we felt the need to have a central office location for our staff to use as 'home base' and we wanted a place to build a showcase for some amazing new technology that integrates entertainment and computing environments in the home."
The Bernardsville office will be transformed into an integrated home technology solution showcase that is scheduled to debut in August. The next generation home environment will employ wireless networks, touch sensitive screens such as iPads, and low cost HDMI monitors instead of expensive HDTVs to create a home network without the need for telephone lines, cable service, or Category 5 wiring.
Fast-teks offers a full range of computer support and IT solutions on-site at your home or business and provides help desk support via phone, email or text. Same-day computer service—including nights and weekends—is available in case of emergencies
Fast-teks also publishes a blog at http://www.TekTalkNJ.com to provide clients and readers with free computer and repair advice. The blog covers topics such spyware and virus removal, network administration and security, wireless network setup, data backup, hard drive and data recovery, and equipment purchasing advice.
About Fast-teks, Inc.
Fast-teks is an on-site computer service company which specializes in both residential and business IT services. Fast-teks is one of the fastest growing on-site computer services firms in North America and offers business owners and residential customers a one-call solution for all their computer needs. Fast-teks of Somerset and Morris County is the largest of the 14 franchises in operation in New Jersey.
###